Back to the Shared Blessings Blog
September 2016 Newsletter
Dear friends, family and partners,
It's hard to believe that September is already here and we are preparing for "back to school!" We are excited about the 30 new students that are going to begin kindergarten at Emmanuel Mission School who will have the opportunity to hear the Gospel message, while enjoying a good education in a loving environment.
Sixteen Students Graduated 2016 and We are Welcoming 350 Students on September 19th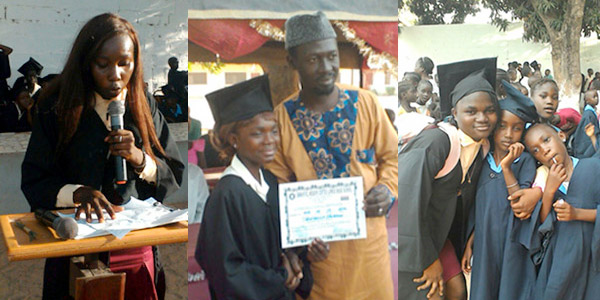 We are also sad to say good-bye to our children who graduated this year and are going to High School or to a secondary school where they will be finishing their education. Even though we still have 350 students, we somehow have the "empty nesters" feeling because we will not see their familiar faces. The exam/grading process is quite different in Gambia in that they take their final exams in May and we don't receive the results until the end of August.
We are so proud of our kids, and we are even more pleased to see that the students that took top of the class are the ones that have been in our school since they were in Nursery level. We have 5 students that did not pass, and they'll go to a secondary technical school; we plan to keep in touch with all our children as they allow us into their lives.
The Unfolding Vision of Shared Blessings
Our vision and our goal is to help as many students as is financially possible to go through high school and even college, so that as they continue in higher education and are able to graduate, we are able to offer them jobs at our school where they started. In this way, we can continue to influence their lives and they would be able to educate the next generation after them and in doing so, they are able to change the face of the next generation. Education is easy to offer, but we want to offer them much more – a different future, not just economically but spiritually. What comes to mind is what Paul said in Romans 12:2 "Do not be conformed to this world, but be transformed by the renewing of your mind. Then you will be able to discern what is the good, pleasing, and perfect will of God."
In order to bring this vision into reality, we invite you to partner with us to support Emmanuel Mission Center's mission of educating the children in the school and beyond. $25 a month pays for their education, provides hot lunch every day, gives them access to basic medical care and most important puts them in an environment where they can be introduced to the Gospel message. Visit our Get Involved page for more details.
Bringing the Gospel to the People in the Villages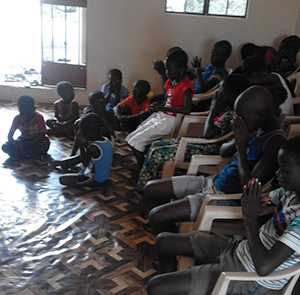 On August 15th we had two different evangelism meetings taking place, one in Youna village where Pastor Robert held prayer meetings and shared the Gospel message and Janet Mendy had an outreach program in the village of Sanyang where she is developing her ministry to children and women. Janet has been ministering to the children in the village since October of 2015. She was able to put together a drama presentation, Bible reading, and memory verse recital for the parents and other people who joined them for the program. There was worship music and food for all attending, and they had a great turnout.
Reaching people in Gambia is done through relationships and caring for one another. Investing in the children's lives and future touches the heart of any parent, regardless of nationality or religious belief.Muslim people desire to please God, but they don't understand His perfect will. That's why it is so important to continue our relationship with our students, even after they graduate, so that we can nurture, guide and influence their lives into their adulthood.
We are in the process of forming a construction team that will come to Gambia in February 2017. More information in the next newsletter. Thank you from the bottom of our hearts for your partnership, prayers and support. We cannot do what we do without you.
Blessings and much love,
Sol and Manuela Bah