Newsletter
Dear friends, family and partners in ministry,
Our time in Gambia is quickly coming to an end, even though we feel like we just got here. There is still so much to do and to catch up on. New situations and needs continue to come our way and decisions need to be made about what to do and how to help. The stories I want to share demonstrate this.
Beram and Janet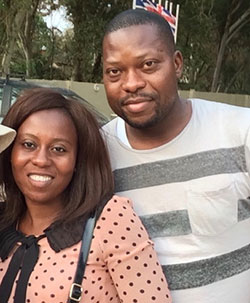 We met Janet a couple of years ago when she attended one of the leadership classes we were giving. In a short time, our relationship with her became strong and genuine. We prayed earnestly for God to bring a Godly man in her life who would be a partner in ministry and we believe God answered when he sent Beram into Janet's life. He is Gambian, a former Muslim that was converted to traditional Catholic years ago, but has now become born again and he is on fire for the Lord. He has 12 years of experience working for an NGO raising and selling poultry. Previous to meeting Beram, Janet felt led to start a poultry business that would provide jobs for the community even though she was not experienced in the poultry business. Beram and Janet are getting married in June and we continue to pray God's blessing on them as they plan their future together and minister the Love of Christ in the villages!
Tragedy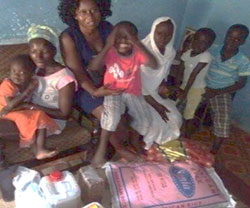 In March this year, Janet lost her older brother to a tragic accident. He was a construction worker and fell off a tall building leaving behind his wife and four children 12, 10, 8 and 5 years old. Janet has been deeply affected by his sudden death, especially because he didn't know Jesus as his personal Savior. She has been ministering to the whole family. Even though Janet's sister-in-law gave her life to Christ and started attending church, her brother remained hard towards God's love and did not allow the children to go to church with their mom. He was the only provider in the family.
Since Janet has a good job, it became her responsibility to take care of the family. This included paying for their rent and providing food and education for the children. We spent time talking and praying with Janet, comforting and counseling her. Picking up the responsibility to provide for a whole family while trying to work a full time job, start a poultry business and a ministry along with preparing to get married is a lot for any single woman! We decided to come along and partner with Janet by taking care of her brother's family, providing food for them every month. We are providing a bag of rice, oil and laundry detergent for $50 a month, which brings a lot of relief to the family and to Janet. All of the clothes and shoes we sent in a container last year came in handy and we were able to give a suitcase full to the family.
Caring for Widows and Orphans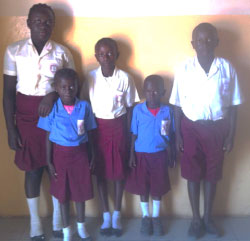 Over Spring break, we received news from the school that a student's father passed away. Later we learned that we have all 5 children of this man in our school, two of the children are in Nursery and the other three children are in grades 2, 4 and 6. Again, the mother is not working; the father was the only provider for the family. Since lunch is already provided at the school for the children, we are making arrangements for the family to receive a bag of rice this month and to ensure that the children will be able to eat breakfast before school every day.
Our hearts are constantly broken by the many needs around us, the unnecessary death of young people due to lack of medical care that leaves behind so many orphans. As I was reading my devotion one day, God spoke to me and encouraged me greatly through His living Word in James 1:27 "Religion that God our Father accepts as pure and faultless is this: to look after the orphans and the widows in their distress and to keep oneself from getting polluted by the world."
We have the opportunity to live out our faith and demonstrate the love of Christ to a world that needs Him so desperately! Because of your faithfulness and generous giving, we can take care of the widows and orphans to provide food and education and lighten their burdens. We pray that God our Father will use our obedience to reveal Himself to these families and to bring them into His flock, where they will know Him as Lord and mighty Savior.
Thank you for partnering with us in touching the lives of so many broken and desperate people. Please continue to pray for the Holy Spirit to move in the hearts of people to receive Jesus as Lord and Savior.
Blessings and much love,
Sol & Manuela
Dear friends and partners in ministry,
Gambia Feels like a New Country
We arrived in Gambia on February 20th, two days after the official inauguration of the new president. It took me by surprise that I was emotional and teary eyed as we touched down in Gambia, partly because we were gone for 9 months due to the political instability, and partly because we were basically arriving to a "new country". The ride from the airport was quiet, as we looked around and observed the changes, but right away we felt the difference "in the air" – PEACE at last, political freedom, but also there was a sense of spiritual freedom that we haven't felt before. Now that we're here, it's like some unseen bondage has been broken, and there is a spiritual freedom that the country is experiencing. Christians are gathering freely at the stadium to pray and celebrate. Please pray with us that the Wind of the Holy Spirit will overflow this tiny nation and a revelation of His mighty power will take over this land and spread into all of West Africa.
Glad to See Each Other!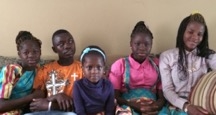 The staff and children at the school were so excited to see us–they missed us as much as we missed them! Mr. Tamba, the school headmaster, shared with us in detail how tense the political situation really was, and that he even thought about leaving the country with his family for safety. He is originally from Sierra Leone and he has seen things that no human being should ever have to see! He was very concerned for his three daughters, ages 18, 17 and 14 because he saw first hand what was done to women during the Sierra Leone civil war. We kept in touch with them almost daily during those days, and he said our prayers and encouragement helped him through it all. Praise God for His infinite love and mercy, for answering our prayers and protecting all of our children and staff.
Construction of a New Building at the School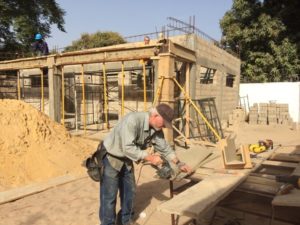 We are so grateful for the team of 5 men who came in March to continue in the construction of a building for our lab and ministry room. The project proved to be a little more complicated than they anticipated, but after two and a half weeks of hard work, they were able to look back and see the success of the project. There is still some work to be done for the project to be completed, but the difficult part is behind us.
During their time here, working alongside the Gambian crew, one man asked to go home for a family emergency. He returned a little later to say that an 8-day-old baby from their compound had passed away. We later found out it was Mari's brother. Mari is in grade 9 in our school, she is the little girl we wrote about in our Christmas letter and we have been following her story. She was so heartbroken; she came into our office and cried bitterly! She told us that the people in the compound were saying that the baby was cursed. The family had just done the naming ceremony for the baby according to their tradition, but her mother had also taken the baby to a "marabou", a Shaman priest, the day before. Mari was sad because she said she didn't know who the baby's father was, and she opened up to us to say that if her mom was married to her father, she would not continue to have babies with another man. This is just a small example of the complex situations that we have to deal with every day, comforting and counseling our students.
I'm so grateful for Rose, our secretary and office assistant because she is learning to counsel the students and taking a course in social work. Rose is a gift from God, please pray for her for wisdom and protection, and for God to bring a Godly husband into her life, a born again believer who would be a partner to her in the calling that God has on her life.
Meeting Needs as we Work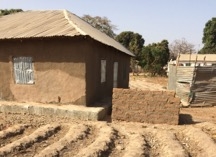 Every year when we return to Gambia, it feels like God draws our attention to someone and as we talk to them, we find out about some great needs they are facing. So is the case with Mrs. Davies, our grade one teacher and one of the pillars at the school. She has been working for us since the day we opened the school, never misses a day of work, a solid believer and great teacher. She never complains or asks for anything. One day, Sol just went to her and asked her a simple question: "What is the biggest concern you have at home?"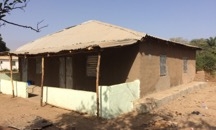 She started crying and said that after renting all these years, she built a little house of mud blocks to have her own place, but she needs to stucco it with cement in order to protect it before the rainy season. We went to see the house and we quickly noticed that she also needed windows, doors and a bathroom before the rain comes. The bathroom is just sticks and corrugate with no cover, but she didn't even mention it. As we looked at this place that she called home, we felt prompted to do something about it that would change her life and relieve her of her biggest worries.
God has been showing us the needs of people around us and giving us opportunities to bless people and show them His love. We could not do it without your faithful support in prayer and in giving, and for that we say thank you from the bottom of our hearts.
Thank you for your prayers for this nation, we saw God's answer and how He intervened in miraculous ways! We look ahead to more amazing opportunities to bless people and share the love of Jesus in tangible ways.
Thank you for all you do to see His kingdom come here in Gambia.
Blessings and much love,
Sol and Manuela
Dear friends and family,
Over the last 16 years we've been traveling and working in Gambia, loving the lost and reaching out to them with the love of Christ. During this time, we have also hosted many teams from the U.S. that have come to share the love of Jesus in a variety of ways–teaching, children's ministry, sports, medical, leadership training, and construction. One thing we always tell the people that come is that flexibility is key in Africa. This year Sol and I have had to practice flexibility to the next level! We've been stretched and tried and our patience has been refined but through it all, God has been our strength. We are very excited to "see the light at the end of the tunnel" and to return to Gambia in a few days.
New Beginnings in Gambia
You may all know that Gambia's government has gone through an amazing change. It all started on Election Day, December 1st 2016, when the Gambian people united, put their fear of a cruel dictator behind them and chose a new president. Two months of tension, uncertainty and waiting, with the intervention of the ECOWAS (Economic West African States), UN, EU and AU, the dictator was forced out and today we have a new president, new government and a new beginning. In the short time since the new leadership was implemented, we are seeing positive changes taking place.

The "Islamic" name was removed from the name of the country; Gambia is in the process of re-joining the Common Wealth countries and the ICC (International Criminal Court) and we look forward to many more positive changes.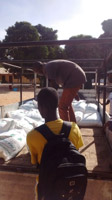 During this time of uncertainty, over 45,000 people migrated to neighboring countries, fearing for their lives and food was scarce. Because of your faithfulness, we were able to provide bags of rice to all of our staff and ministry partners, and they were so blessed and grateful.
More people have prayed for Gambia in the last months than ever before, not just people that know the ministry and us, but people all over the world. We believe with all our hearts that what happened and what is unfolding in Gambia is a miracle, an answer to all our prayers and God is at work in a mighty way in this nation. The miracles will continue to unfold as we continue to pray for this nation because the people are open to what's new. Please continue to pray with us for people's hearts to be open to a new teaching about Jesus, their Savior. Pray for the new government to lead with integrity of heart and for corruption to be eliminated. Pray for the citizens to be patient and to obey the laws.They have been oppressed for so long and now they are expecting a quick fix to all the problems.
Shared Blessings Continues to Grow
It's also been very refreshing to see how the ministry has been growing and moving on in our absence. Mr. Tamba is doing an amazing job managing the school, hiring new teachers and ministering to the kids in the school. We kept in touch with all the ministry partners, mentoring them from a distance through emails and phone calls. (We love WhatsApp and IMO!)
Pastor Robert asked us for ideas about how to motivate the youth in his church to reach out in the community. After a few emails and conversations, they decided to pick a school in the village and they are planning to volunteer and paint the building and to help clean up the compound. Shared Blessings is partnering with them to provide the supplies they need, as most schools are not well maintained due to the lack of funds.

God blessed Pastor Frances and his wife Fatima with a healthy baby girl, Rebecca, just a few weeks ago. We can't wait to get there to see her and the happy parents. They are continuing the youth ministry in Darsalame village, through sports and Bible Studies.
We are excited to let you know that because of your partnership and generosity in giving to God's work, we were able to purchase a new property in the village of Banyanka, where Pastor Phillip was called at 16 years of age (he is now 25). The property is 30m x 35m and it will be used to build a church for the community. We learned that there are no churches of any kind in Banyanka, so this will be the only place of worship in the community. We believe God for a great harvest, as we continue to pray for Pastor Phillip, for great wisdom in the work God has called him to.
A team of five men will be joining us March 5th-22nd for a construction project that was started last year. They will be building the second floor of a single room building. We really need their expertise in executing a job that we can trust so we don't have to worry about the second floor collapsing. The bottom floor will be used for a computer lab and the upper room for ministry purposes only–Bible classes/leadership training/intercessory prayer. We are also planning to have the team help rebuild the kitchen at the school. The existing building was built on a very poor foundation, and the floor is sinking on one side. The cooks have been cooking outside and using the other half of the kitchen to distribute the food. We have been pursuing the purchase of the property that's next to the school for this purpose that is for sale, but there are some family complications involved and the process came to a stop. However, we have hope that it can be worked out, but we need prayer and a miracle. The time is short before the team arrives, but we know that God is never late when He has a plan that He is bringing to completion.
God is at work in a mighty way in Gambia, and we know your prayers are being answered. Thank you so much for partnering with us in building God's Kingdom on this earth.
We cannot do what we do without your faithful prayers and support.
We love and appreciate you! God bless you!
Sol and Manuela Bah
Dear friends, family and partners,
It's been too long since Sol and I were able to spend Thanksgiving and Christmas with our families here in the states, we don't really remember – maybe 12 years or so. This year, we have the joy and privilege of being here and we are enjoying every minute of it already!
As I take every day in, I can't help but constantly compare how different everything is from Gambia. But one thing that remains the same, no matter where we are, is the fact that Christmas is a time of celebration for the hope our Savior brought to us when he entered the world.
Hope–what a powerful word, yet there are so many people living hopeless lives. I think of the many times and situations where we have had the opportunity to bring hope to people in Gambia. My heart warms with the memories and we thank God for allowing us this privilege.
Mari's Story of Hope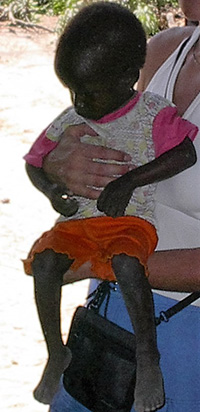 One person's story that is still unfolding before our eyes is Mari's story, the little 2 year-old girl that God brought our way in April of 2004 during one of our visits. Mari was so small and frail, she looked barely a year old; she had a big belly and reddish hair from malnutrition. She followed the older children around the school property during the time a construction team was building the first building. I still remember picking her up and how weightless her body felt. I'll never forget the way she grabbed the piece of bread I gave her and how she ate it while looking for more. We started bringing her food every day. Her mother was about 15 years old when Mari was born and she didn't have a job or a way to provide for her baby. She was uneducated, could not speak English, her front teeth were missing and to survive she washed laundry for people from house to house but was not making enough to properly feed herself and her child. Education was not part of Mari's future… What a hopeless situation.
That year, before we left, we began taking care of Mari's medical needs and providing food for her family. When she turned 3 years old, she was enrolled in the school and we watched her as she grew into a beautiful and amazing young girl. Today, Mari is in 9th grade and she is a resilient student. Still shy and reserved at times, but when she prays, she forgets to be shy! God's hand is on her life and we are so excited to watch and see what He will do with her in the future.
Whenever I have a bad day at the school, I go look for Mari. I watch her and see how she is involved in the class; she is reading, understanding, and speaking English, and then, I think of her mother who didn't have the opportunity Mari has, and I'm filled with joy and hope for Mari's young life. Once she finishes grade 9, because of your gifts,we will be able to continue to provide for her education, even beyond EMC, to ensure that she gets every opportunity to finish her education and to have a bright future.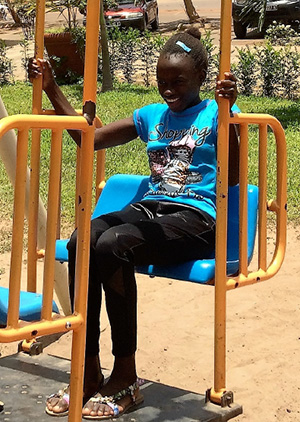 Mari's story is a story of hope, a story that is still unfolding. She has hope for a better life and future, not just from an economic standpoint, but most important, from a spiritual perspective she will have an opportunity for a different future. To see her life being transformed in such an amazing way, gives us hope for the rest of our children. Imagine that same kind of transformation taking place in all 350 of our students since they are being given the same opportunity. This opportunity for each student is made possible by your generosity! Just imagine each of their lives 8-10 years from now, when some of the students will come back and work in the school to educate the next generation, and some will be in leadership positions in the government, hospitals and other institutions. Imagine with me their future, because of the Hope that Christ has brought into their lives.
Please pray for the children's lives
As we continue to sow seeds of God's love into the children's lives, please pray for them, that God will do what only He can do by the power of the Holy Spirit–to give them a new life in Him and through Him!
I'm reminded of God's promises for His people in Jeremiah 29:11 "For I know the plans I have for you," declares the Lord, "plans to prosper you and not to harm you, plans to give you hope and a future." The same promises are for our children in Gambia; God wants to prosper them and give them hope and a future.
Thank you for being a part of bringing HOPE to a hopeless nation and people. Thank you for being a part of God's plan to fulfill His promises to His children. Thank you for giving, praying, and encouraging us with words and by your actions. We couldn't do what we do without you!
This season, while we are here, we look forward to seeing the Christmas lights, listening to the Christmas music, and enjoying the Christmas programs and celebrations of our Lord and Savior. Most of all, we enjoy being with family and spending time with friends; making memories that we treasure and that will strengthen us in the years to come, during those times when we will be far from family and friends and with our Gambian families.
Let HOPE arise in your hearts above all else, as you celebrate our Savior!
Merry Christmas to you and your family!
In His Love, Sol and Manuela Bah
Dear friends, family and partners,
It's hard to believe that September is already here and we are preparing for "back to school!" We are excited about the 30 new students that are going to begin kindergarten at Emmanuel Mission School who will have the opportunity to hear the Gospel message, while enjoying a good education in a loving environment.
Sixteen Students Graduated 2016 and We are Welcoming 350 Students on September 19th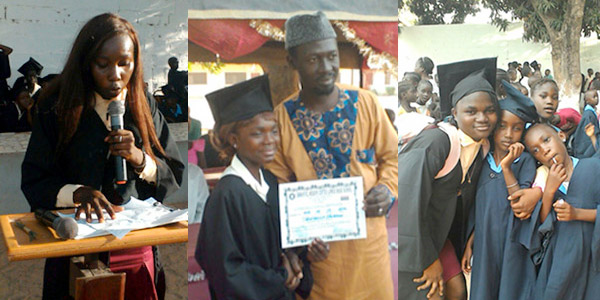 We are also sad to say good-bye to our children who graduated this year and are going to High School or to a secondary school where they will be finishing their education. Even though we still have 350 students, we somehow have the "empty nesters" feeling because we will not see their familiar faces. The exam/grading process is quite different in Gambia in that they take their final exams in May and we don't receive the results until the end of August.
We are so proud of our kids, and we are even more pleased to see that the students that took top of the class are the ones that have been in our school since they were in Nursery level. We have 5 students that did not pass, and they'll go to a secondary technical school; we plan to keep in touch with all our children as they allow us into their lives.
The Unfolding Vision of Shared Blessings
Our vision and our goal is to help as many students as is financially possible to go through high school and even college, so that as they continue in higher education and are able to graduate, we are able to offer them jobs at our school where they started. In this way, we can continue to influence their lives and they would be able to educate the next generation after them and in doing so, they are able to change the face of the next generation. Education is easy to offer, but we want to offer them much more – a different future, not just economically but spiritually. What comes to mind is what Paul said in Romans 12:2 "Do not be conformed to this world, but be transformed by the renewing of your mind. Then you will be able to discern what is the good, pleasing, and perfect will of God."
In order to bring this vision into reality, we invite you to partner with us to support Emmanuel Mission Center's mission of educating the children in the school and beyond. $25 a month pays for their education, provides hot lunch every day, gives them access to basic medical care and most important puts them in an environment where they can be introduced to the Gospel message. Visit our Get Involved page for more details.
Bringing the Gospel to the People in the Villages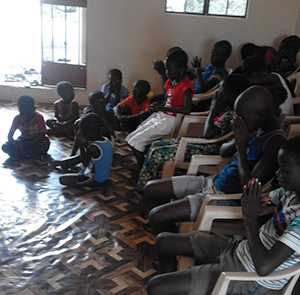 On August 15th we had two different evangelism meetings taking place, one in Youna village where Pastor Robert held prayer meetings and shared the Gospel message and Janet Mendy had an outreach program in the village of Sanyang where she is developing her ministry to children and women. Janet has been ministering to the children in the village since October of 2015. She was able to put together a drama presentation, Bible reading, and memory verse recital for the parents and other people who joined them for the program. There was worship music and food for all attending, and they had a great turnout.
Reaching people in Gambia is done through relationships and caring for one another. Investing in the children's lives and future touches the heart of any parent, regardless of nationality or religious belief.Muslim people desire to please God, but they don't understand His perfect will. That's why it is so important to continue our relationship with our students, even after they graduate, so that we can nurture, guide and influence their lives into their adulthood.
We are in the process of forming a construction team that will come to Gambia in February 2017. More information in the next newsletter. Thank you from the bottom of our hearts for your partnership, prayers and support. We cannot do what we do without you.
Blessings and much love,
Sol and Manuela Bah
Dear friends, partners and family,
Life on the mission field is exciting and challenging, full of joy as well as fears, victories and uncertainties…so much has happened, some things we can't share for privacy and security reasons.
As we continue to minister in this nation, we realize more and more every day how the school is much more than a place to educate the children. It is clear that it is a spiritual nursery, full of opportunities to minister to the children and their families. Here are a few stories about how a nation is being impacted with the love of Christ in action.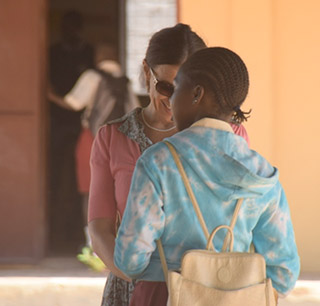 One day as I was talking with "Anna", one of our girls at the school, I noticed she was not eating lunch with the rest of the students because she had a toothache. Anna is in Grade 8 and she is an amazing student, one of the few who loves to read and has an inquisitive mind. Her mother passed away when she was in 5th grade, and she doesn't have a relationship with her father because he is from a Christian background and her mom was Muslim, so they were not allowed to be together. Her mother's sister and her husband, who are not showing her much love and compassion, are raising her. She complained of her toothache to her aunt and uncle but they didn't do anything about it. We sent Rose, our secretary from the school, to ask their permission to take her to the dentist and he was able to fix the painful tooth as well as another tooth that would have started to give her problems soon. That act of caring and kindness was the beginning of an open door for us to reach Anna! As Anna spends time with Rose, who is a strong believer, she is open to the advice Rose gives her. Anna is also opening up to us every chance she has. As soon as we get to the school, she comes looking for us. We spent a lot of time answering her questions about God and His Word; she loves to read. We've provided school shoes and clothes for her, books and school supplies, and recently when she opened up to Rose about not having breakfast at home, we started providing food for her and a few other students that Rose had noticed were hungry because they didn't have breakfast. Our prayer is for Anna to find the love of Jesus that would fill her aching heart and for Him alone to satisfy her needs with His presence!
"Lidia" is another student that was very distraught one day; we found out that her mother had been very sick for a long time. She was so concerned for her Mother's life, Lidia was not able to focus on her studies. We were able to provide for the family to take her mother to a private clinic for proper assessment, and the staff there concluded she had TB and needed immediate attention. The clinic referred her to a British Medical Research Center that is free of charge and has some of the best equipment in the country. Sadly, her mother passed away a few weeks later, because she had been sick for a very long time without proper care. Lidia is now another student that we will watch to be sure her needs are met. We don't want her education to be interrupted and her future affected because of her circumstances.
"Kathy's" story continues to unravel before our eyes and she continues to need all the prayers we can pray for her. We spend a lot of time with her, taking her to our house overnight to spend time with us and to allow us to speak into her life. Recently she opened up about her family and the poor examples she has in her life – an aunt that recently had a child out of wedlock and after giving birth, the baby never made it home. Kathy was concerned that they "hurt" the baby to cover up her aunt's mistakes.
"Faith" opened up to us about being abused by her uncle and even though the family knew about it, they would not do anything about it because of the shame that it would bring to the family! She was worried sick about contacting a STD and was depressed and broken. We were able to step in and calm her fears by sending her to see a doctor who confirmed that she is clear of any disease. She has since moved to live with her father and stepmother where she is safe and is being raised in a Christian environment since the father is Christian.
These are just a few stories of what our children are going through. God has positioned us in a place of influence in their lives that allows us to step in and show love and compassion to their broken and full of despair souls. We would appreciate your prayers for our children, especially the girls who can be very easily taken advantage of with no consequences for the person hurting them. Also pray for God to bring to us a Christian social worker that we can hire at the school to be available to talk to the children that are hurting and need so much direction and care.
God has called us all to a ministry of reconciliation for the broken to the Source of Life and Hope and to the only One who can save us, Jesus, our Savior. Pray the Holy Spirit will do the work that only He can do–to restore the broken-hearted emotionally, mentally, physically and spiritually. To reveal the Healer to them in a life changing way that will cause beauty to rise up from the ashes.
Thank you from the bottom of our hearts for partnering with us in changing a nation, one child at a time. Thank you for your faithful support in giving and in prayer. We cannot do what we do without you!
Have a safe and happy summer with your families and loved ones.
God bless you mightily,
Sol and Manuela Bah
Shared Blessings
Dear friends, family and partners,
A couple of years ago while praying and asking God for direction and discernment for the future of Shared Blessings, God showed us his heart through the prayer of Jabez.
1 Chronicles 4:10 Jabez cried out to the God of Israel, "Oh, that you would bless me and enlarge my territory! Let your hand be with me, and keep me from harm so that I will be free from pain." And God granted this request.
We started praying like Jabez prayed–for God to enlarge our territory and influence in Gambia, to keep His hand upon us and to protect us from harm and pain; He has granted our request. Some of you may have already heard that in March we had an unpleasant experience when our house was broken into and a lot of our things were stolen. God kept us from harm and pain! We were not home when it happened, so all we lost were material things that can be replaced. He protected us from being hurt and He provided the Grace Church team that was here at the time, to pray with us, talk to us and to help us find solutions about how to secure our house better in order to make it harder for those trying to break in again. We are so grateful for the wonderful support we received from our friends in a time of trial and what could have been a time of discouragement and setback.
We also experienced the blessing of the team coming to Gambia to work on a construction project in the village of Faala, a new location where God is enlarging our territory and influence. When the team arrived, we had the foundation of the building poured and ready. A contractor whom we worked with in the past from Lamin did the foundation. We had not made any connections in Faala up to that point, so when the team started working we hired masons and workers from the Faala area. The men who came to build a building did much more than that!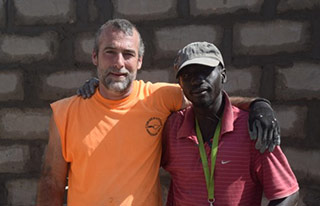 Along with the physical building, they built the foundation of a ministry by forming relationships very quickly with the local workers, giving the ministry an opportunity to grow and bless the village. I watched in amazement at how everyone on the team formed a close bond with a different person, and how they worked together, joking, laughing, and sharing their lives with them and teaching them how to do what they do in a more efficient way.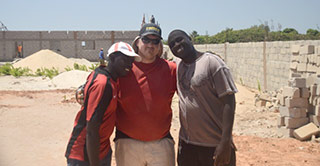 This team has done in 10 days what it would have taken us 2 months to do with only local workers! People from the village stopped by and asked how can this be possible and how many people are working on the project? They got to see first hand, the testimony of God's protection and what can be done when people work together in unity.
On the men's return home, we experienced again God's faithfulness and protection of three of the men on the team at the airport in Brussels on March 22nd when the attack on the Brussels airport took place. God in His grace and love protected them from harm and physical pain. Thank you Lord.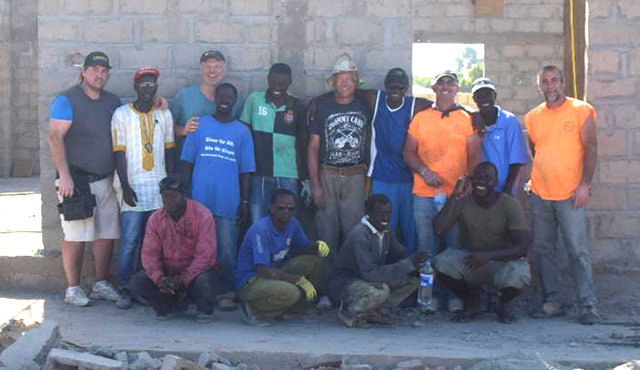 After the team left, we had an extra week with team leader, Larry Bonife, who hired the workers from Faala to help with the building of the computer lab at the school. Larry continued to teach and work together with the Gambian team, and I believe they are all looking forward to seeing him back in Gambia. It was great to spend Easter together with our Bible Study group at the school and Larry shared an inspiring message.
A few days before Easter, we held a couple of leadership training classes with Dan Lucero and some other pastors he travelled with from the Ivory Coast, Senegal and Guinea Bissau. We continued the leadership training with the group through the month of April, to review and solidify the teachings and to encourage the leaders to put it into practice. God is so good, we see His hand at work in our life and in the lives of people that we are partnering with in the work He has called each of us to do. We look forward with excitement and anticipation to see what He will accomplish in this nation through the work of the Holy Spirit that is empowering the believers. Thank you for your prayers and support! We cannot do anything without your continuous prayers!
In His Service,
Sol and Manuela Bah
Dear friends and partners in ministry,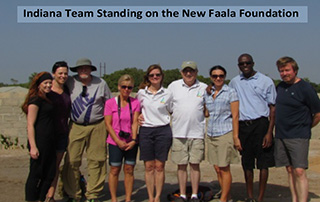 This month, we had the joy and privilege of hosting a team of seven from Life Bridge Church in Fort Wayne, Indiana. We met Pastor Bill Campbell, the senior pastor at Life Bridge Church some three years ago in LA while we were doing a Missionary Intensive training. At that time, he shared with us how some 30 years ago he felt called to minister in Guinea Bissau but that was never fulfilled. Meeting us, and hearing about the ministry in Gambia which includes ministry to a large population of people from Guinea Bissau that live in Gambia, Pastor Bill felt God moving in his heart and he felt this was a second chance for him and his church to be involved in reaching out to the people he once felt called to. We had the privilege of being invited to Life Bridge Church (twice so far) and started making plans for a team to come visit us in Gambia in order to see the work and to pray for the future about how God would want them to continue to be a part of His work in West Africa.
Here is what Pastor Bill had to say:
"I cannot express enough how grateful we are for the time we spent with both of you and the Shared Blessings Gambia team. The ministry at Emmanuel Mission Center is so important for the future of Christian Faith in Gambia and to be able to see and participate first hand in the day to day experience of the school was such a blessing. We were so privileged to pray over the foundation being laid for the building at the site for the Outeach Ministry Center in Faala village. Truly, you are making a difference by bringing the message of hope and redemption, the opportunity provided by quality education, and the practical training of the leaders in Gambia.

It was so good to be with Pastor Robert in his Sunday service and to meet the other young pastors who are being discipled through your ministry. We are delighted about what God is doing in Fotoumata (Sol's sister) and will continue to pray for her to receive all that God has for her in the days ahead. Thanks again for the privilege of our time of ministry in Gambia!"
The team had fun playing with the children, making "Salvation Bracelets" and teaching them the wordless book story. Pastor Bill taught them the song that goes with the wordless book that he still remembers from his time in Sunday School.
"My heart was black with sin, until the Savior came in; His precious blood, I know, has washed me white as snow; And in His Book we're told, we'll walk the streets of gold; oh, may we ever know, to do God's will and grow."
The song has a powerful message, and the kids love singing. One particular instance that the team was amazed about was how the nursery 2 teacher that is a wonderful Muslim lady, asked Grace to write down the words of the song for her so she can continue to teach the song to the kids. Please continue to pray for the Nursery 2 teacher "Mary" as she is teaching the children using books and DVD's that share the Gospel message. Pray that God will not only touch the hearts of the children, but Mary's heart also.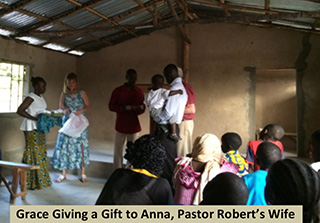 It was so wonderful to be encouraged, refreshed and reaffirmed in our calling and the work that God called us to do in Gambia. We got to experience Gambia and God's work here through their eyes; to see what we can't see any more because we live here. We laughed, we hugged, we shared our lives and we ate ice cream! They blessed us beyond words! Thank you, dear family, at Life Bridge Church!
God works in mysterious ways, His ways are above our ways and His thoughts are far above our thoughts! He is doing an amazing work in this nation and in the Islamic world as a whole!
Matthew 12:25 Jesus… said to them, "Every kingdom divided against itself will be ruined, and every city or household divided against itself will not stand." Believe His words! God has a plan and He is at work, even when we don't see or understand the whole picture. His ways are above our ways!
Thank you for your support and prayers, thank you for your faithfulness and love for us and for God's children around the world. We cannot do what we do without you.
In His service,
Sol and Manuela Bah
Dear friends and family,
A Good Samaritan Story in Gambia
As we prepared for our morning walk, Sol and I held hands and prayed: "Lord, show us what you want us to do today; let us see with your eyes and help us to be your hands and feet wherever we go."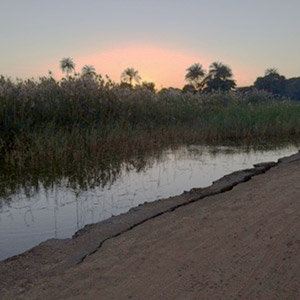 It was in early January, one morning during the "cold season" in Gambia, when the temperature gets down to the mid 60's and we get to enjoy the cool ocean breeze as we go on our morning walks. We approached an area by a canal full of water when we noticed two men talking and pointing to a man's figure in the distance on the ground. Sol translated for me that they were saying "there is a man sitting in the dirt that is not well, he must be "mentally unstable" so they were keeping their distance from him.
We quickened our steps and cautiously got closer to the man, only to realize that he was wet and shivering and could not even stand up to his feet. We stopped next to him and then we realized the other two men were following us. Not too far from the man was a pile of garbage and I noticed some good clothes that someone had discarded (probably because they belonged to someone that died because people would not wear a dead man clothes). So I grabbed a couple of jackets and put one on his shoulders and one on his trembling legs. He pulled it and covered his head, he was so cold. I touched him, and held his shoulders, telling him it was going to be OK!
By then, two more people came and one told us how the old man on the ground was going to the Mosque to pray that morning, when he lost his way and fell in the water. He heard him yelling for help and pulled him out to safety and left him on the ground. We found him about two hours later, wet, cold, and shivering.
The man went on to say that he saw a truck full of people that drove by, but they didn't stop. People walked by him, but no one stopped. A man on a motorcycle drove by too… We gave them money to go look for a taxi to take the man home, while we went to go get him some food and water. We found a compound close by where we could take him, wash and feed him, give him some hot tea and find out where he lived so they could take him to his family. We left him with the man and told him we'd be back in the evening to check on him. By that evening, we found out that the man was taken home to his family and he was doing well. As a result of this happening, we became quite well known in the neighborhood! Going for a walk is a little different now as we constantly run into our new friends.
This experience showed us how much it means for us to just be here, to be Jesus in action. It's not about what we preach, it is about what we do; how we live out our faith. This is just one of many stories we could share that we have had the opportunity to be a part of, as God shows us the many needs around us and the many ways we can be Jesus to the "least of these."
Faala Outreach
God is enlarging our territory and our influence in Gambia.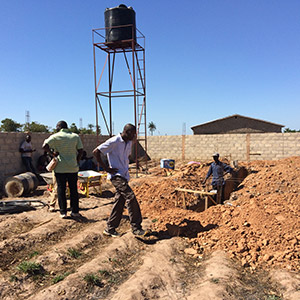 We are so excited about the Faala Village Project where a new water pump and tank have been installed and where we are just finishing up the foundation for the Community Outreach Center.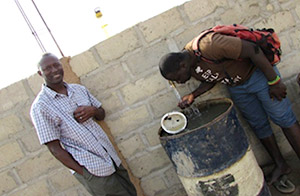 Every time we go to the Faala Village, we feel peaceful, so full of hope and anticipation about what the Lord plans to do through the Outreach Center. By hiring the people from the village to do the work, we are already establishing relationships with the community and providing jobs for the locals. We look forward to the team from Grace Church who will be coming in March and working together with them to continue to strengthen our relationships and influence in the community by working and building alongside the locals. God is at work!
Workshops and Seminars
January has been a busy month, not only because we've been working in Faala, but because we held a couple of workshops with our staff before we reopened the school for the second term. We also organized a much-needed Marriage Seminar for a group of pastors from the community, at their request. Because of transportation issues, previous commitments and other things like that, we conducted two sessions per day. This way, we were able to finish the teaching in three weekends. Even before we finished the seminar, several of them were asking us about when we would be able to do it again so they could invite other people!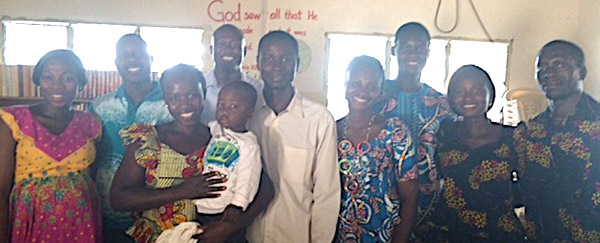 Since most of them minister to people in the villages and the villagers do not all speak English, our plan now is to train the pastors and give them the tools, so that they can translate the material into their tribal languages and adapt it to their culture; they will understand how to apply it and live it out. One pastor told us that in one of the tribes he ministers to, the man MUST steal, or they are not considered a man! So, who do you obey, God or the culture?
At the beginning of this year, as we prayed for God's will and direction, the verse that He gave us was Ephesians 4:11-12 (emphasis on 12) "11 And He gave the apostles, and prophets, the evangelists, the shepherds and teachers, 12 to equip the saints for the work of the ministry, for building up the body of Christ".
Thank you so much for your faithful support and partnership; we could not do what we do without you! We ask for your prayers for us and for this nation. He is faithful to answer the prayers of the righteous one.
In His Service,
Sol and Manuela Bah
Dear friends and partners in the ministry, Merry Christmas from warm and sunny Gambia!
As I look out the window, it looks like it's snowing white butterflies! I guess it's the butterfly season; I haven't noticed until recently how many white butterflies we have this time of the year! Maybe this is because there are more important things to notice around us. Poverty, oppression, spiritual darkness….are just a few of the things that capture our attention day in and day out.
10 Year Anniversary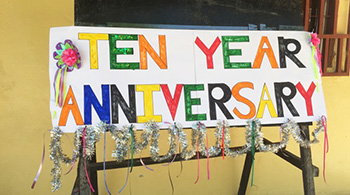 Yet, in spite of the hopelessness we see all around, it is with great joy and grateful hearts that we celebrated our ten-year anniversary since the opening of Emmanuel Mission School in Lamin village. We began with only 90 students in nursery, 5 teachers and 3 support staff members. Even though we were scared and afraid about the uncertainty of the future, we took a step of faith and trusted God to guide us and provide for the vision that He put in our hearts—to educate children and to share the Gospel of hope and salvation that comes through Jesus Christ with the people in Gambia. God has provided above and beyond our imagination, and today we are able to employ 29 people and educate 340 students from nursery to 9th grade. What a miracle!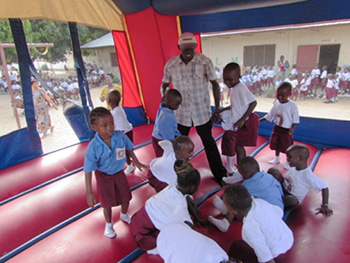 The celebration day was made special for the students with a special lunch, drinks and cookies and we rented an inflatable bouncy house. Since none of the children had ever seen a bouncy house, some of the little ones were scared and crying and did not enjoy the bouncy house as much, but most of the children had a lot of fun, even with the limited time we had to schedule for each class.
On the day of our celebration, we stood among the students and teachers and just watched them interact and carry out their tasks, organizing and working as a team to make things happen. What a joy to be able to have so many capable and trustworthy people to work with.
The students put on an amazing display of drama, songs and dances that glorified the name of Jesus throughout the day in front of the parents, elders of the village and officials from the Education Department. It made us very proud.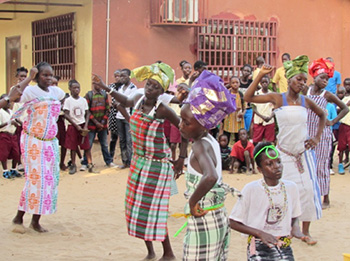 The part that brought tears to our eyes and touched our hearts the most was the tribal dancing at the end of the program. It was a visual display of how many different tribes (Jolla, Mandinka, Fula, Ollof, Manjago, Seerel) and countries (Gambia, Senegal, Nigeria, Sierra Leone, Liberia, Guinea Bissau, Guinea Conakry) are attending the school. They danced to their own music in their traditional clothes. It really was a glimpse of what heaven will be like!
When we first felt called to minister in Gambia, God spoke to us that He would use us to reach the nations. At that time we didn't understand how that could happen because we felt Gambia was where he called us. Now we see how He is using the school as a base where people from different nations are able to hear the truth of the Gospel and receive an education. Pray with us that hearts will be open. We serve a mighty God!

Meeting with Area Pastors and Leaders
We are continuing to meet with the group of pastors and leaders that we've been meeting with for the last two years. They are ministering in the surrounding areas and villages and we have the privilege to encourage and pray with them, provide Bibles and evangelism materials and strategize about reaching out to other villages with the Gospel.
Faala Village Project
The Faala Village project is coming along nicely according to the plans we made. We are in the process of digging the well and setting up for digging the foundation that needs to be ready before the construction team comes at the end of February. We are so grateful for the support and commitment our Grace Church family is providing! Many of the same people have been coming every time we have a project and we can't even begin to express our gratitude for their sacrifice and partnership! May God reward you all for your generosity to His kingdom!
Preparing for Christmas
With Christmas approaching, we are busy teaching the kids Christmas songs and preparing a Christmas drama that will be played out in front of the whole school. Please pray that the Holy Spirit will bring understanding about who Jesus is and why He came, and a hunger to each child to search for the truth, to look deeper into the story of our Savior.
The Bible tells us that "In His name the nations will put their hope." (Matthew 12:21) We pray that the nation of Gambia will put their hope in Him! We pray for the Holy Spirit to reveal the Savior of the world to many more!
Merry Christmas to you and to all your family and loved ones!
May the God of hope fill you with all joy and peace as you trust in Him, so that you may overflow with hope by the power of the Holy Spirit." Romans 15:13
Sol and Manuela Bah