Newsletter
Dear friends and partners in ministry,
God promised to never leave us or forsake us, to be with us always… and this season we need to cling to these particular promises more than ever before. Our return trip to Gambia was harder on Sol's body than we expected, the travel took a toll on him like never before and we had to take a few days for him to rest and recover. His health continues to be a day by day-not sure how he is going to feel-kind of situation and we ask for your daily and continual prayers for him.
Sunday School Flourishing
We are encouraged to see how things have been developing here in our absence and that is what keeps us going and focused on the goal that is before us. The Sunday School program led by Mr. Biango was the highlight of our week, as we watched the children singing, learning and having fun. What brought even more joy to our hearts was seeing Mr. Biango's passion while teaching them. Most of the older children who attended for the last few years are not coming to the Sunday School anymore; a younger crowd of about 30 children are now attending. This was an eye opener for us to realize how we only have a short and valuable period of time when the children are available and we need to take advantage of every minute we have with them to teach them God's word and His love for them.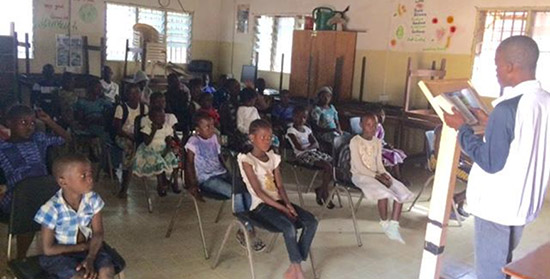 We would like to ask you to pray for the kids that have moved on—that the seeds that were planted in their hearts will grow and produce fruit in due season. Here are some of their names: David (the kids called him the pastor, he has a calling and anointing on him, he is about 15-16 years old now, John, Nelu, Bartholomew, James, Mari, Madeline, Awa.These are just a few that we remember. God knows each one of them by name and He knows where they are. He has a plan and a future for them, we trust and surrender them to Him.
Vision to Place Christian Teachers in All Area Schools
We met with our ministry partners, Janet and Beram, and we shared our vision to place dedicated teachers who would teach the Christian Religion classes with compassion in the area schools. They were excited and confirmed with us that this has been on their hearts too and they had been trying to figure out how to get started. Janet shared that she knows of Christian Religion teachers that had to return to college to pursue a different degree because they were not able to obtain a teaching position for the subject or the pay was so low they could not survive on it. This was a confirmation of what God had put on our hearts. Please join us in praying that God will send us teachers who are passionate to share the Gospel in a classroom setting. These teachers would see each school as a mission field.
We also met with Eugene, Julious and Biango, our own Christian Religion teachers, to strategize and mobilize them to be a part of this vision at our school and then beyond to other area schools. We planned that they would train the rest of the teachers by sharing the same curriculum and strategy and using materials that are friendly and non-offensive to share the Word of God with Muslims and non-believers.
The country as a whole has a sense of freedom and people are ready for a change. It reminds me of the time when Jesus came into our world as a baby, people were tired of oppression and wanted a new government to save them. Gambians have been oppressed for 22 years and people are ready for something new. Even though they expect "that new good thing" to come from a new government, we pray and believe that just like back then, the only new thing that can change their world is the presence of Jesus in their lives and hearts.
Pray With Us
For God prepared opportunities to share His love.
For open doors that would fulfill the vision of placing teachers in multiple schools to teach God's word and truth.
For the teams that are coming in February, March and April to be sensitive to the Holy Spirit and to have their spiritual eyes open to the needs around us.
For the teachers at the school to work together in unity, collaboration, of one mind, one goal and for the One and only, Jesus.
For our health and safety here, especially for Sol's healing, the restoration of his digestive system and for strength.
God is our Rock, an ever-present help in time of trouble. We are here by his grace and we trust fully in Him and His power to carry us through this season of our lives.
Thank you from the bottom of our hearts for your support, prayer, giving and partnership. We cannot do what we do without you.
Sol and Manuela
Dear friends and partners in ministry,
God's Plan, not Ours
We did not plan or anticipate spending Thanksgiving and Christmas in the States this year, but that was God's plan. God is clearly showing us His plan for us to be here and as much as our hearts long to be in Gambia with the people we love and miss so much, we are being obedient. We are learning to be on His schedule and not to make our own and ask Him to bless it.
Christmas Preparations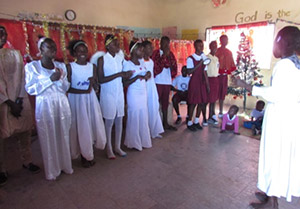 We continue to keep in close contact with the staff and ministry partners, to pray for them and advise them when they ask for help. The school staff is organizing a Christmas program to celebrate our Savior's birth. They are training new students who will participate for the first time in the Christmas drama that will be performed in front of their fellow students and staff.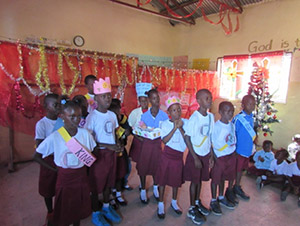 The majority of the students that have taken the leading roles in the past graduated this summer, so younger students are being trained to take on the rolls of Mary and Joseph, the wise men and the angels… Pray for patience for the teachers and most of all, pray for the story of the birth of Jesus to be presented in a way that would make the hearts of the children want more of Him. We do our part and plant the seeds and we believe the Holy Spirit will do what only He can do—draw people to Him.
Evaluating and Moving Forward
Since the beginning when God called us to ministry in Gambia, we've felt that He was calling us to reach and change a nation. We know that only God can accomplish a vision that size and we are grateful for that. He chose to use ordinary people to fulfill His great commission, and He promised to be with us always. To stay on course, we constantly evaluate the progress and results of the ministry, the techniques we use and our role in the ministry of Shared Blessing.
For a while, we thought building more schools would be the way to reach more children and the next generation. This plan would require more land, more buildings, more staff, and a lot more work for the two of us, more than we thought we could handle. We wrestled with that idea for a while since we knew that it would be too much for us. We still believe planting the seeds of the Gospel in the children's hearts at a young age is the way to reach the nation but we couldn't see a solution for doing that.
God is enlarging our Vision
A couple of months ago we were sharing with some dear friends of ours how the Saudi Arab countries have been sending funds to Gambia and other impoverished nations in Africa to build mosques, Islamic schools and to pay for Islamic teachers to be placed in every school in the country in order to ensure that the children are being taught the Islamic faith. As we were sharing, we were asked if there would be any restrictions on funding and placing Christian teachers in every school in Gambia, since it is a requirement from the Education Department that religion must be taught in schools. We had our answer—we don't need to build more schools, we need to train, equip and send missionaries/teachers in to schools that are already there! They can share the Gospel and plant the seeds of God's love into the hearts and minds of the children.
In this way, we can reach thousands of children throughout the nation, and we would only have to pay each teacher's salary of about $150/month and provide the tools for them. This new approach has excited our hearts and it keeps us dreaming with our eyes wide open! We serve a mighty God, and through our obedience, He can do exceedingly, abundantly more then we can ever ask or imagine.
Just imagine with us that during Christmas time in Gambia, we have committed teachers organizing a Christmas play/drama in multiple schools, presenting the Gospel to hundreds and even thousands of children all at once! Imagine the Gospel being presented to Muslim children every week through Bible stories and songs, Bible verses and videos. God promised that His word would not return void so as we take on this challenge and new approach to share the truth of God's Word, we believe He is at work to save a nation.
We humbly ask again for your prayers, for God to give us wisdom and to see the direction God has for us to be able to take this to the next level. We will need to approach the Education Department officials and inquire about their requirements in implementing our plan.
Pray for God to prepare a person of peace that would handle the request and for wisdom for the teacher that would represent the vision.
Pray for this vision to be viewed as a benefit that would bring unity and not as a threat or competition.
Pray for God's hand and mighty power to be at work every step of the way. We need His intervention and miracle working power to accomplish this vision on a large scale.
Thank you from the bottom of our hearts for partnering with us in changing a nation. Thank you for giving, praying and believing.
Wishing you a Merry Christmas and a New Year filled with Faith, Hope and Love. Blessings and much love,
Sol and Manuela Bah
Dear friends and partners in ministry,
THANK YOU. As the Thanksgiving Holiday approaches, we are grateful and awed to the Lord for all He has done for us and through us. We also want to thank every one of you for your prayers and support throughout the years and for your commitment to see lives changed for eternity! We truly cannot do what we do without your support and prayers. Looking back, it's clear that everything that has been accomplished is due to God's mighty power that is at work in Gambia.
Investing in the future of our staff and equipping them has been on our heart.
Rose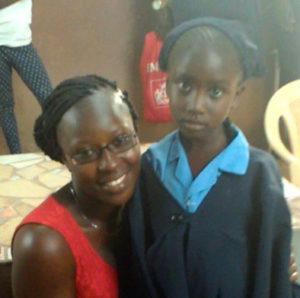 We hired Rose as the school secretary and office administrator about three years ago. From the beginning, we saw her tender heart towards the children and her passion to guide and council the older girl students, but she needed more training. Through Shared Blessings sponsorship, she has been attending a course offered through SOS Children's Village, an organization working in Gambia since the 1980's. Rose is doing her internship and will graduate in December. We have already noticed her growth in knowledge and skill and she beams with joy and confidence.
We thank God for Rose and the gift that she is to the ministry.
Princess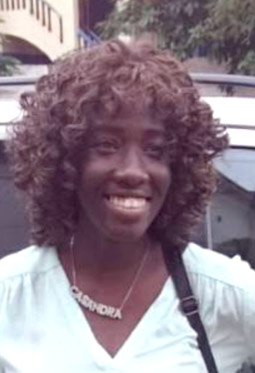 Princess is another young woman whom we believe was brought into our lives for a special purpose by God. We were driving from Faala Village when we passed her on the road and about 50 meters further, Sol stopped the car and said we should go back and give her a ride home as there were no taxis in the area. So, that's how we met Princess.
We discovered that she is a believer and an amazing young lady who actually went to high school at the SOS Children's Village School. After that day, she continued to stay in touch so we invited her to see the school and we shared with her the vision that God has put on our hearts for the Gambian people.
She wanted to be a nurse and go to nursing school but had not yet been accepted. While she waited to reapply, she volunteered at a children's shelter close to her house. She worked at night, holding babies and caring for them and with every child she cared for, her heart was moved to love and care for the unwanted and destitute. She is 22 years old and lives with her mom since her father passed away a while ago. She has wanted to bring home a few babies but her mom kept reminding her that they are struggling to survive as it is.
After counseling with Princess, she agreed to go to SOS and complete the same Social Workers course that Rose is enrolled in so that she can be equipped to follow her passion and care for children in a different way.
Because of your generosity and support, Shared Blessings is able to sponsor Princess so she can begin the one-year program on November 6th, 2017. Princess has also been a key participant in the rice distribution outreach in two villages along with the rest of the staff. While she is attending the social worker course in the evenings she has been volunteering at our school, Emmanuel Mission Center, during the day. She teaches the kids worship songs, arts and crafts, talks to the parents who come to inquire about their children, and helps in the office and classrooms.
We also have had the opportunity to invest in both young ladies spiritual growth and maturity as they attend the leadership classes we lead with the staff and ministry partners. We couldn't be more excited to see how God is going to use them to impact their generation!
Indigenous Pastors and Leaders
God has also been giving us favor to work with a group of indigenous pastors and leaders in order to equip, empower and support them to go and do the work that He is calling them to do in the villages and remote areas.While most other ministries are focusing in the urban area, we have an amazing opportunity to reach out towards the west side of the border – for now. The Gambian evangelical Church is small, and committed believers are few.
Please join us in prayer for the following areas:
Pray for Gambians to have a vision to reach their own people.
Pray for wisdom in knowing how to support those who do move into more isolated areas.
Pray that the Holy Spirit might set the indigenous Church free from the restraints of fear and lack of confidence.
Pray that Christians might minister powerfully and effectively to their fellow Gambians.
Pray for nominal Christians to discover a genuine life in Jesus.
Pray for more workers from among the native people.
God is preparing this nation for a great revival. He is building His Church and the gates of hell shall not prevail against it. We are humbled and excited to be a part of what He is doing by the power of the Holy Spirit in these last days, all He needs is our obedience.
Thank you from the bottom of our hearts for giving, praying and believing!
Happy Thanksgiving to you and your family and take time to be grateful for everything He has done for us.
Blessings and much love,
Sol and Manuela Bah
If you're going to shop on Amazon (Christmas is coming), why not use smile.amazon.com and look for Shared Blessings as the ministry to support so that a percentage of your spending will support our work in The Gambia?
Dear friends, family and partners,
The last two months have been a little challenging for us as Sol started to struggle with some health issues at the beginning of July. After many doctor appointments and lots of tests done, at first with no answers, the diagnosis was inflammation in his stomach and colon caused by bacteria, a condition that is treated with antibiotics. He is on his way to recovery but we would appreciate your prayers for him, for full strength and energy to return to him as he heals.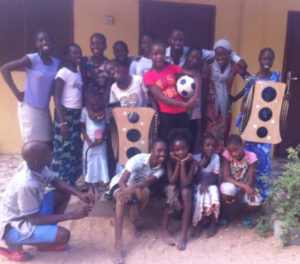 Sol's health did not slow down the work in Gambia. The ministry team from the school organized the first summer Vacation Bible School for the community. The six day school included games, Bible teaching, worship and, of course, food. On the last day they all went to the beach for a time of refreshing, worship and games as part of the program.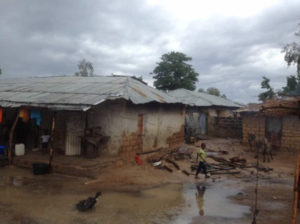 This year the rainy season brought major devastation in some areas of the country. We found out about the Keiang Village, a community that is located a few hours away from the school, which suffered major damage because of flash floods. People lost their roofs, some lost their homes completely, food was hard to obtain… This village has also suffered in the past due to political reasons because they were not supporting the former president so he had held any kind of development from them to make them suffer. We sent a team of our staff from the school led by Pastor Robert to provide bags of rice to 50 needy families. It was well received and appreciated, but what touched our hearts the most was to be able to show these people that Christians care for them, because Jesus taught us to love and care for our neighbors. Pastor Robert was able to share with the villagers and he prayed over them. The governor of the village was there and she was very touched by the generosity of the provision. In fact, she started telling the team how many other needs they have and of other villages that can use help.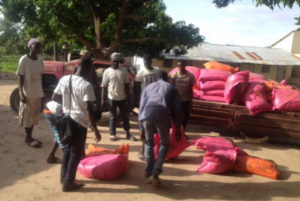 This month, we are sending a team to Sanyang village to provide rice for some struggling families and to open doors for continuing ministry in these areas. Janet and her husband, Beram, have been working in Sanyang village for the last two years and these gifts will help them extend their ministry to people that haven't been part of the Bible Study group and to invite the children to participate in the ministry they are doing every week.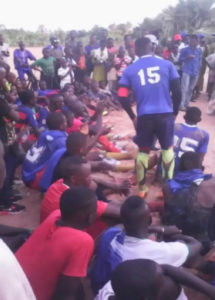 In the village of Darsalameh where Pastor Frances is ministering to the youth through sports and Bible studies, a three-day evangelism outreach and a soccer tournament was organized to encourage the youth to join the Bible Study and the sports program that he has been conducting. They were able to share the Gospel openly with hundreds of people who came to hear the Word of God for the very first time.
September is always a busy month since school opens the last week of September. During September, there is registration for new students, hiring new teachers, orientation and workshops. We are excited every year for the new students and staff that join the school and the opportunity for them to hear the word of God, to see the difference in the way we operate and treat people, to see the love of God manifested among us and the unity that binds us in Christ. We would really appreciate your prayers in this regard because we know that the victory is only through prayer. As the ministry is growing so are our challenges, but we know that the Lord is on our side. We are reminded very much of Exodus 17: 11-12 "As long as Moses held up his hands, the Israelites were winning, but whenever he lowered his hands, the Amalekites were winning. When Moses' hands grew tired, they took a stone and put it under him and he sat on it. Aaron and Hur held his hands up—one on one side, one on the other—so that his hands remained steady till sunset."
We need you to stand by our sides to lift us up in prayer, to lift up the work that God is doing through us and through your prayers, so that when we grow tired, because you have held up our arms, the battle against the evil one is always won. We cannot do what we do without you!
Thank you from the bottom of our hearts for standing with us, for praying and giving, for believing in His mighty work of redemption and reconciliation of all people to the love of Christ our Savior.
Blessings and much love,
Sol and Manuela
Dear friends, family and partners in ministry,
Our time in Gambia is quickly coming to an end, even though we feel like we just got here. There is still so much to do and to catch up on. New situations and needs continue to come our way and decisions need to be made about what to do and how to help. The stories I want to share demonstrate this.
Beram and Janet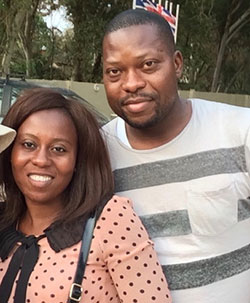 We met Janet a couple of years ago when she attended one of the leadership classes we were giving. In a short time, our relationship with her became strong and genuine. We prayed earnestly for God to bring a Godly man in her life who would be a partner in ministry and we believe God answered when he sent Beram into Janet's life. He is Gambian, a former Muslim that was converted to traditional Catholic years ago, but has now become born again and he is on fire for the Lord. He has 12 years of experience working for an NGO raising and selling poultry. Previous to meeting Beram, Janet felt led to start a poultry business that would provide jobs for the community even though she was not experienced in the poultry business. Beram and Janet are getting married in June and we continue to pray God's blessing on them as they plan their future together and minister the Love of Christ in the villages!
Tragedy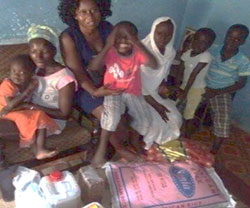 In March this year, Janet lost her older brother to a tragic accident. He was a construction worker and fell off a tall building leaving behind his wife and four children 12, 10, 8 and 5 years old. Janet has been deeply affected by his sudden death, especially because he didn't know Jesus as his personal Savior. She has been ministering to the whole family. Even though Janet's sister-in-law gave her life to Christ and started attending church, her brother remained hard towards God's love and did not allow the children to go to church with their mom. He was the only provider in the family.
Since Janet has a good job, it became her responsibility to take care of the family. This included paying for their rent and providing food and education for the children. We spent time talking and praying with Janet, comforting and counseling her. Picking up the responsibility to provide for a whole family while trying to work a full time job, start a poultry business and a ministry along with preparing to get married is a lot for any single woman! We decided to come along and partner with Janet by taking care of her brother's family, providing food for them every month. We are providing a bag of rice, oil and laundry detergent for $50 a month, which brings a lot of relief to the family and to Janet. All of the clothes and shoes we sent in a container last year came in handy and we were able to give a suitcase full to the family.
Caring for Widows and Orphans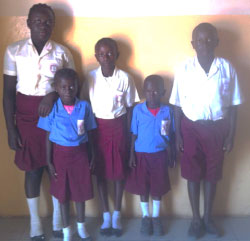 Over Spring break, we received news from the school that a student's father passed away. Later we learned that we have all 5 children of this man in our school, two of the children are in Nursery and the other three children are in grades 2, 4 and 6. Again, the mother is not working; the father was the only provider for the family. Since lunch is already provided at the school for the children, we are making arrangements for the family to receive a bag of rice this month and to ensure that the children will be able to eat breakfast before school every day.
Our hearts are constantly broken by the many needs around us, the unnecessary death of young people due to lack of medical care that leaves behind so many orphans. As I was reading my devotion one day, God spoke to me and encouraged me greatly through His living Word in James 1:27 "Religion that God our Father accepts as pure and faultless is this: to look after the orphans and the widows in their distress and to keep oneself from getting polluted by the world."
We have the opportunity to live out our faith and demonstrate the love of Christ to a world that needs Him so desperately! Because of your faithfulness and generous giving, we can take care of the widows and orphans to provide food and education and lighten their burdens. We pray that God our Father will use our obedience to reveal Himself to these families and to bring them into His flock, where they will know Him as Lord and mighty Savior.
Thank you for partnering with us in touching the lives of so many broken and desperate people. Please continue to pray for the Holy Spirit to move in the hearts of people to receive Jesus as Lord and Savior.
Blessings and much love,
Sol & Manuela
Dear friends and partners in ministry,
Gambia Feels like a New Country
We arrived in Gambia on February 20th, two days after the official inauguration of the new president. It took me by surprise that I was emotional and teary eyed as we touched down in Gambia, partly because we were gone for 9 months due to the political instability, and partly because we were basically arriving to a "new country". The ride from the airport was quiet, as we looked around and observed the changes, but right away we felt the difference "in the air" – PEACE at last, political freedom, but also there was a sense of spiritual freedom that we haven't felt before. Now that we're here, it's like some unseen bondage has been broken, and there is a spiritual freedom that the country is experiencing. Christians are gathering freely at the stadium to pray and celebrate. Please pray with us that the Wind of the Holy Spirit will overflow this tiny nation and a revelation of His mighty power will take over this land and spread into all of West Africa.
Glad to See Each Other!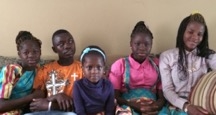 The staff and children at the school were so excited to see us–they missed us as much as we missed them! Mr. Tamba, the school headmaster, shared with us in detail how tense the political situation really was, and that he even thought about leaving the country with his family for safety. He is originally from Sierra Leone and he has seen things that no human being should ever have to see! He was very concerned for his three daughters, ages 18, 17 and 14 because he saw first hand what was done to women during the Sierra Leone civil war. We kept in touch with them almost daily during those days, and he said our prayers and encouragement helped him through it all. Praise God for His infinite love and mercy, for answering our prayers and protecting all of our children and staff.
Construction of a New Building at the School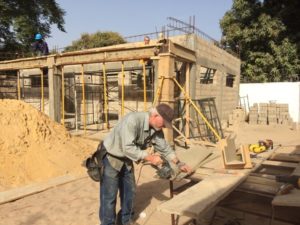 We are so grateful for the team of 5 men who came in March to continue in the construction of a building for our lab and ministry room. The project proved to be a little more complicated than they anticipated, but after two and a half weeks of hard work, they were able to look back and see the success of the project. There is still some work to be done for the project to be completed, but the difficult part is behind us.
During their time here, working alongside the Gambian crew, one man asked to go home for a family emergency. He returned a little later to say that an 8-day-old baby from their compound had passed away. We later found out it was Mari's brother. Mari is in grade 9 in our school, she is the little girl we wrote about in our Christmas letter and we have been following her story. She was so heartbroken; she came into our office and cried bitterly! She told us that the people in the compound were saying that the baby was cursed. The family had just done the naming ceremony for the baby according to their tradition, but her mother had also taken the baby to a "marabou", a Shaman priest, the day before. Mari was sad because she said she didn't know who the baby's father was, and she opened up to us to say that if her mom was married to her father, she would not continue to have babies with another man. This is just a small example of the complex situations that we have to deal with every day, comforting and counseling our students.
I'm so grateful for Rose, our secretary and office assistant because she is learning to counsel the students and taking a course in social work. Rose is a gift from God, please pray for her for wisdom and protection, and for God to bring a Godly husband into her life, a born again believer who would be a partner to her in the calling that God has on her life.
Meeting Needs as we Work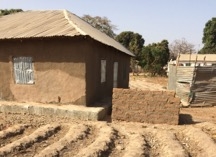 Every year when we return to Gambia, it feels like God draws our attention to someone and as we talk to them, we find out about some great needs they are facing. So is the case with Mrs. Davies, our grade one teacher and one of the pillars at the school. She has been working for us since the day we opened the school, never misses a day of work, a solid believer and great teacher. She never complains or asks for anything. One day, Sol just went to her and asked her a simple question: "What is the biggest concern you have at home?"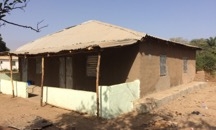 She started crying and said that after renting all these years, she built a little house of mud blocks to have her own place, but she needs to stucco it with cement in order to protect it before the rainy season. We went to see the house and we quickly noticed that she also needed windows, doors and a bathroom before the rain comes. The bathroom is just sticks and corrugate with no cover, but she didn't even mention it. As we looked at this place that she called home, we felt prompted to do something about it that would change her life and relieve her of her biggest worries.
God has been showing us the needs of people around us and giving us opportunities to bless people and show them His love. We could not do it without your faithful support in prayer and in giving, and for that we say thank you from the bottom of our hearts.
Thank you for your prayers for this nation, we saw God's answer and how He intervened in miraculous ways! We look ahead to more amazing opportunities to bless people and share the love of Jesus in tangible ways.
Thank you for all you do to see His kingdom come here in Gambia.
Blessings and much love,
Sol and Manuela
Dear friends and family,
Over the last 16 years we've been traveling and working in Gambia, loving the lost and reaching out to them with the love of Christ. During this time, we have also hosted many teams from the U.S. that have come to share the love of Jesus in a variety of ways–teaching, children's ministry, sports, medical, leadership training, and construction. One thing we always tell the people that come is that flexibility is key in Africa. This year Sol and I have had to practice flexibility to the next level! We've been stretched and tried and our patience has been refined but through it all, God has been our strength. We are very excited to "see the light at the end of the tunnel" and to return to Gambia in a few days.
New Beginnings in Gambia
You may all know that Gambia's government has gone through an amazing change. It all started on Election Day, December 1st 2016, when the Gambian people united, put their fear of a cruel dictator behind them and chose a new president. Two months of tension, uncertainty and waiting, with the intervention of the ECOWAS (Economic West African States), UN, EU and AU, the dictator was forced out and today we have a new president, new government and a new beginning. In the short time since the new leadership was implemented, we are seeing positive changes taking place.

The "Islamic" name was removed from the name of the country; Gambia is in the process of re-joining the Common Wealth countries and the ICC (International Criminal Court) and we look forward to many more positive changes.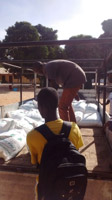 During this time of uncertainty, over 45,000 people migrated to neighboring countries, fearing for their lives and food was scarce. Because of your faithfulness, we were able to provide bags of rice to all of our staff and ministry partners, and they were so blessed and grateful.
More people have prayed for Gambia in the last months than ever before, not just people that know the ministry and us, but people all over the world. We believe with all our hearts that what happened and what is unfolding in Gambia is a miracle, an answer to all our prayers and God is at work in a mighty way in this nation. The miracles will continue to unfold as we continue to pray for this nation because the people are open to what's new. Please continue to pray with us for people's hearts to be open to a new teaching about Jesus, their Savior. Pray for the new government to lead with integrity of heart and for corruption to be eliminated. Pray for the citizens to be patient and to obey the laws.They have been oppressed for so long and now they are expecting a quick fix to all the problems.
Shared Blessings Continues to Grow
It's also been very refreshing to see how the ministry has been growing and moving on in our absence. Mr. Tamba is doing an amazing job managing the school, hiring new teachers and ministering to the kids in the school. We kept in touch with all the ministry partners, mentoring them from a distance through emails and phone calls. (We love WhatsApp and IMO!)
Pastor Robert asked us for ideas about how to motivate the youth in his church to reach out in the community. After a few emails and conversations, they decided to pick a school in the village and they are planning to volunteer and paint the building and to help clean up the compound. Shared Blessings is partnering with them to provide the supplies they need, as most schools are not well maintained due to the lack of funds.

God blessed Pastor Frances and his wife Fatima with a healthy baby girl, Rebecca, just a few weeks ago. We can't wait to get there to see her and the happy parents. They are continuing the youth ministry in Darsalame village, through sports and Bible Studies.
We are excited to let you know that because of your partnership and generosity in giving to God's work, we were able to purchase a new property in the village of Banyanka, where Pastor Phillip was called at 16 years of age (he is now 25). The property is 30m x 35m and it will be used to build a church for the community. We learned that there are no churches of any kind in Banyanka, so this will be the only place of worship in the community. We believe God for a great harvest, as we continue to pray for Pastor Phillip, for great wisdom in the work God has called him to.
A team of five men will be joining us March 5th-22nd for a construction project that was started last year. They will be building the second floor of a single room building. We really need their expertise in executing a job that we can trust so we don't have to worry about the second floor collapsing. The bottom floor will be used for a computer lab and the upper room for ministry purposes only–Bible classes/leadership training/intercessory prayer. We are also planning to have the team help rebuild the kitchen at the school. The existing building was built on a very poor foundation, and the floor is sinking on one side. The cooks have been cooking outside and using the other half of the kitchen to distribute the food. We have been pursuing the purchase of the property that's next to the school for this purpose that is for sale, but there are some family complications involved and the process came to a stop. However, we have hope that it can be worked out, but we need prayer and a miracle. The time is short before the team arrives, but we know that God is never late when He has a plan that He is bringing to completion.
God is at work in a mighty way in Gambia, and we know your prayers are being answered. Thank you so much for partnering with us in building God's Kingdom on this earth.
We cannot do what we do without your faithful prayers and support.
We love and appreciate you! God bless you!
Sol and Manuela Bah
Dear friends, family and partners,
It's been too long since Sol and I were able to spend Thanksgiving and Christmas with our families here in the states, we don't really remember – maybe 12 years or so. This year, we have the joy and privilege of being here and we are enjoying every minute of it already!
As I take every day in, I can't help but constantly compare how different everything is from Gambia. But one thing that remains the same, no matter where we are, is the fact that Christmas is a time of celebration for the hope our Savior brought to us when he entered the world.
Hope–what a powerful word, yet there are so many people living hopeless lives. I think of the many times and situations where we have had the opportunity to bring hope to people in Gambia. My heart warms with the memories and we thank God for allowing us this privilege.
Mari's Story of Hope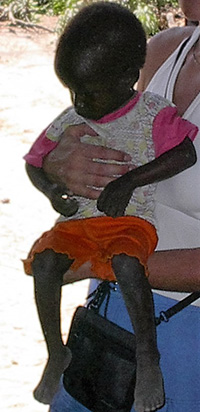 One person's story that is still unfolding before our eyes is Mari's story, the little 2 year-old girl that God brought our way in April of 2004 during one of our visits. Mari was so small and frail, she looked barely a year old; she had a big belly and reddish hair from malnutrition. She followed the older children around the school property during the time a construction team was building the first building. I still remember picking her up and how weightless her body felt. I'll never forget the way she grabbed the piece of bread I gave her and how she ate it while looking for more. We started bringing her food every day. Her mother was about 15 years old when Mari was born and she didn't have a job or a way to provide for her baby. She was uneducated, could not speak English, her front teeth were missing and to survive she washed laundry for people from house to house but was not making enough to properly feed herself and her child. Education was not part of Mari's future… What a hopeless situation.
That year, before we left, we began taking care of Mari's medical needs and providing food for her family. When she turned 3 years old, she was enrolled in the school and we watched her as she grew into a beautiful and amazing young girl. Today, Mari is in 9th grade and she is a resilient student. Still shy and reserved at times, but when she prays, she forgets to be shy! God's hand is on her life and we are so excited to watch and see what He will do with her in the future.
Whenever I have a bad day at the school, I go look for Mari. I watch her and see how she is involved in the class; she is reading, understanding, and speaking English, and then, I think of her mother who didn't have the opportunity Mari has, and I'm filled with joy and hope for Mari's young life. Once she finishes grade 9, because of your gifts,we will be able to continue to provide for her education, even beyond EMC, to ensure that she gets every opportunity to finish her education and to have a bright future.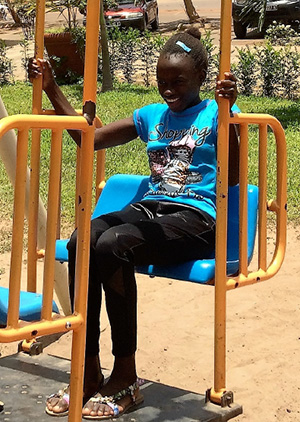 Mari's story is a story of hope, a story that is still unfolding. She has hope for a better life and future, not just from an economic standpoint, but most important, from a spiritual perspective she will have an opportunity for a different future. To see her life being transformed in such an amazing way, gives us hope for the rest of our children. Imagine that same kind of transformation taking place in all 350 of our students since they are being given the same opportunity. This opportunity for each student is made possible by your generosity! Just imagine each of their lives 8-10 years from now, when some of the students will come back and work in the school to educate the next generation, and some will be in leadership positions in the government, hospitals and other institutions. Imagine with me their future, because of the Hope that Christ has brought into their lives.
Please pray for the children's lives
As we continue to sow seeds of God's love into the children's lives, please pray for them, that God will do what only He can do by the power of the Holy Spirit–to give them a new life in Him and through Him!
I'm reminded of God's promises for His people in Jeremiah 29:11 "For I know the plans I have for you," declares the Lord, "plans to prosper you and not to harm you, plans to give you hope and a future." The same promises are for our children in Gambia; God wants to prosper them and give them hope and a future.
Thank you for being a part of bringing HOPE to a hopeless nation and people. Thank you for being a part of God's plan to fulfill His promises to His children. Thank you for giving, praying, and encouraging us with words and by your actions. We couldn't do what we do without you!
This season, while we are here, we look forward to seeing the Christmas lights, listening to the Christmas music, and enjoying the Christmas programs and celebrations of our Lord and Savior. Most of all, we enjoy being with family and spending time with friends; making memories that we treasure and that will strengthen us in the years to come, during those times when we will be far from family and friends and with our Gambian families.
Let HOPE arise in your hearts above all else, as you celebrate our Savior!
Merry Christmas to you and your family!
In His Love, Sol and Manuela Bah
Dear friends, family and partners,
It's hard to believe that September is already here and we are preparing for "back to school!" We are excited about the 30 new students that are going to begin kindergarten at Emmanuel Mission School who will have the opportunity to hear the Gospel message, while enjoying a good education in a loving environment.
Sixteen Students Graduated 2016 and We are Welcoming 350 Students on September 19th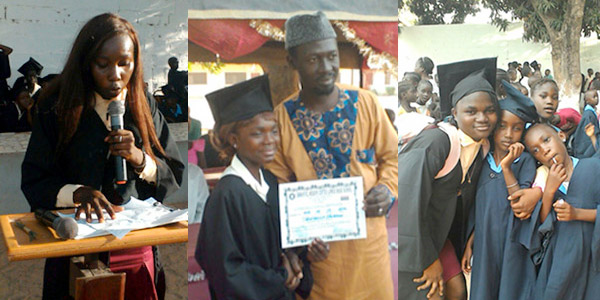 We are also sad to say good-bye to our children who graduated this year and are going to High School or to a secondary school where they will be finishing their education. Even though we still have 350 students, we somehow have the "empty nesters" feeling because we will not see their familiar faces. The exam/grading process is quite different in Gambia in that they take their final exams in May and we don't receive the results until the end of August.
We are so proud of our kids, and we are even more pleased to see that the students that took top of the class are the ones that have been in our school since they were in Nursery level. We have 5 students that did not pass, and they'll go to a secondary technical school; we plan to keep in touch with all our children as they allow us into their lives.
The Unfolding Vision of Shared Blessings
Our vision and our goal is to help as many students as is financially possible to go through high school and even college, so that as they continue in higher education and are able to graduate, we are able to offer them jobs at our school where they started. In this way, we can continue to influence their lives and they would be able to educate the next generation after them and in doing so, they are able to change the face of the next generation. Education is easy to offer, but we want to offer them much more – a different future, not just economically but spiritually. What comes to mind is what Paul said in Romans 12:2 "Do not be conformed to this world, but be transformed by the renewing of your mind. Then you will be able to discern what is the good, pleasing, and perfect will of God."
In order to bring this vision into reality, we invite you to partner with us to support Emmanuel Mission Center's mission of educating the children in the school and beyond. $25 a month pays for their education, provides hot lunch every day, gives them access to basic medical care and most important puts them in an environment where they can be introduced to the Gospel message. Visit our Get Involved page for more details.
Bringing the Gospel to the People in the Villages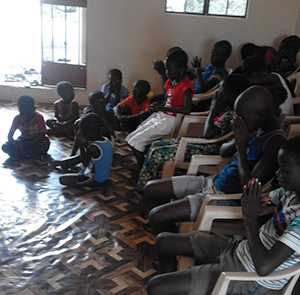 On August 15th we had two different evangelism meetings taking place, one in Youna village where Pastor Robert held prayer meetings and shared the Gospel message and Janet Mendy had an outreach program in the village of Sanyang where she is developing her ministry to children and women. Janet has been ministering to the children in the village since October of 2015. She was able to put together a drama presentation, Bible reading, and memory verse recital for the parents and other people who joined them for the program. There was worship music and food for all attending, and they had a great turnout.
Reaching people in Gambia is done through relationships and caring for one another. Investing in the children's lives and future touches the heart of any parent, regardless of nationality or religious belief.Muslim people desire to please God, but they don't understand His perfect will. That's why it is so important to continue our relationship with our students, even after they graduate, so that we can nurture, guide and influence their lives into their adulthood.
We are in the process of forming a construction team that will come to Gambia in February 2017. More information in the next newsletter. Thank you from the bottom of our hearts for your partnership, prayers and support. We cannot do what we do without you.
Blessings and much love,
Sol and Manuela Bah
Dear friends, partners and family,
Life on the mission field is exciting and challenging, full of joy as well as fears, victories and uncertainties…so much has happened, some things we can't share for privacy and security reasons.
As we continue to minister in this nation, we realize more and more every day how the school is much more than a place to educate the children. It is clear that it is a spiritual nursery, full of opportunities to minister to the children and their families. Here are a few stories about how a nation is being impacted with the love of Christ in action.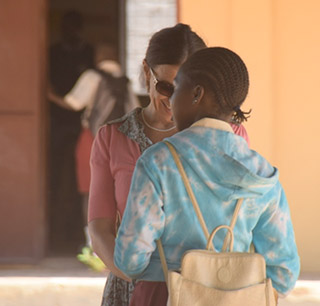 One day as I was talking with "Anna", one of our girls at the school, I noticed she was not eating lunch with the rest of the students because she had a toothache. Anna is in Grade 8 and she is an amazing student, one of the few who loves to read and has an inquisitive mind. Her mother passed away when she was in 5th grade, and she doesn't have a relationship with her father because he is from a Christian background and her mom was Muslim, so they were not allowed to be together. Her mother's sister and her husband, who are not showing her much love and compassion, are raising her. She complained of her toothache to her aunt and uncle but they didn't do anything about it. We sent Rose, our secretary from the school, to ask their permission to take her to the dentist and he was able to fix the painful tooth as well as another tooth that would have started to give her problems soon. That act of caring and kindness was the beginning of an open door for us to reach Anna! As Anna spends time with Rose, who is a strong believer, she is open to the advice Rose gives her. Anna is also opening up to us every chance she has. As soon as we get to the school, she comes looking for us. We spent a lot of time answering her questions about God and His Word; she loves to read. We've provided school shoes and clothes for her, books and school supplies, and recently when she opened up to Rose about not having breakfast at home, we started providing food for her and a few other students that Rose had noticed were hungry because they didn't have breakfast. Our prayer is for Anna to find the love of Jesus that would fill her aching heart and for Him alone to satisfy her needs with His presence!
"Lidia" is another student that was very distraught one day; we found out that her mother had been very sick for a long time. She was so concerned for her Mother's life, Lidia was not able to focus on her studies. We were able to provide for the family to take her mother to a private clinic for proper assessment, and the staff there concluded she had TB and needed immediate attention. The clinic referred her to a British Medical Research Center that is free of charge and has some of the best equipment in the country. Sadly, her mother passed away a few weeks later, because she had been sick for a very long time without proper care. Lidia is now another student that we will watch to be sure her needs are met. We don't want her education to be interrupted and her future affected because of her circumstances.
"Kathy's" story continues to unravel before our eyes and she continues to need all the prayers we can pray for her. We spend a lot of time with her, taking her to our house overnight to spend time with us and to allow us to speak into her life. Recently she opened up about her family and the poor examples she has in her life – an aunt that recently had a child out of wedlock and after giving birth, the baby never made it home. Kathy was concerned that they "hurt" the baby to cover up her aunt's mistakes.
"Faith" opened up to us about being abused by her uncle and even though the family knew about it, they would not do anything about it because of the shame that it would bring to the family! She was worried sick about contacting a STD and was depressed and broken. We were able to step in and calm her fears by sending her to see a doctor who confirmed that she is clear of any disease. She has since moved to live with her father and stepmother where she is safe and is being raised in a Christian environment since the father is Christian.
These are just a few stories of what our children are going through. God has positioned us in a place of influence in their lives that allows us to step in and show love and compassion to their broken and full of despair souls. We would appreciate your prayers for our children, especially the girls who can be very easily taken advantage of with no consequences for the person hurting them. Also pray for God to bring to us a Christian social worker that we can hire at the school to be available to talk to the children that are hurting and need so much direction and care.
God has called us all to a ministry of reconciliation for the broken to the Source of Life and Hope and to the only One who can save us, Jesus, our Savior. Pray the Holy Spirit will do the work that only He can do–to restore the broken-hearted emotionally, mentally, physically and spiritually. To reveal the Healer to them in a life changing way that will cause beauty to rise up from the ashes.
Thank you from the bottom of our hearts for partnering with us in changing a nation, one child at a time. Thank you for your faithful support in giving and in prayer. We cannot do what we do without you!
Have a safe and happy summer with your families and loved ones.
God bless you mightily,
Sol and Manuela Bah
Shared Blessings