Village Food Distribution & First Aid
Village Food Distribution
The needs of the people in Gambia are many, and in order to be able to share the love of Jesus with them, we realized we have to provide for their physical needs. Many families have numerous children and it's very hard for them to provide even daily food. Shared Blessings provides bags of rice to the needy, and the difference that this little act of kindness is making in people's lives is overwhelming. People open up to us and we are able to share the Gospel through the feeding ministry
First Aid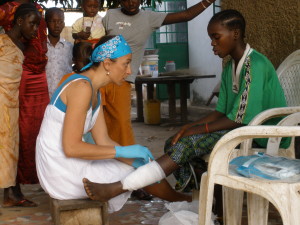 One of the greatest needs in Gambia is medical care. Because of the small income and the large families, people can not afford to buy basic medical supplies. Over the years, we've provided pain medication, band-aids, ointments and bandages to more people than we can count.
We've been traveling to Gambia twice a year and while there we assist with basic medical needs and teach physical and dental hygiene to the children and their parents. We also help people pay for the doctor visits and medications they otherwise would not be able to afford.
We are always in need of bandages, Neosporin, Aspirin, Tylenol, tooth brushes, and tooth paste. Please contact Manuela Bah at sbgambia@yahoo.com if you are able to donate medical supplies or wish to be part of the medical team.