Emmanuel Mission Center
Nursery, Primary and Secondary School
In Gambia, attending school is not free, and because of that many children are left without an education. With the help of our friends and church family, Shared Blessings built a Christian school in Lamin village with room for 300 students.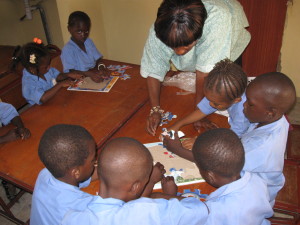 Emmanuel Mission School opened in September 2005 with 90 students, from 3-7 years old. Today, 300 children, ages 3 to 14, attend Nursery one through 9th grade, free of charge. Shared Blessings provides uniforms, books, food and medical attention to all the students; not only do they receive an education, these children are exposed to the teaching of the Gospel and they hear about the Love of Jesus for the first time in their lives.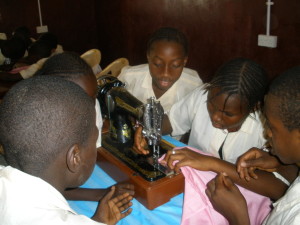 Over time, we have built a building that houses a library and a skill center.  The library is equipped with books, dvd's, and educational materials that are available to the children and their parents.  Our goal is to open the library to the community so many people will be able to learn from the resources that are provided.  The skill center has just been opened with two sewing machines, crochet hooks, knitting needles, and fabric.  In the future, we hope to expand the skills to include many more options.  The children are also learning to garden.  Many Gambians provide for their family by sewing, selling vegetables, and learning the basic skills that are being taught at the school.
Our goal and desire is to see the children open their hearts to Christ and share the message of hope to their families.