Children's Feeding Program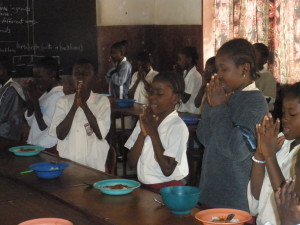 In April 2002, we bought a bowl of porridge from a little old lady down the street. Once we brought it home and gave it to the children that were playing in the neighborhood, it became very clear to us that food was a big need for the people in Gambia. At that time, we began a feeding program in Bakau, where 50-60 children received food every day. Currently we are providing hot lunch for the students and the employees at Emmanuel Mission Center.
The needs of the people in Gambia are many, and in order to be able to share the love of Jesus with them, we realized we have to provide for their physical needs. Many families have numerous children and it's very hard for them to provide even daily food. Shared Blessings provides bags of rice to the needy, and the difference that this little act of kindness is making in people's lives is overwhelming. People open up to us and we are able to share the Gospel through the feeding ministry.