Back to the Shared Blessings Blog
May 2017 Newsletter
Dear friends, family and partners in ministry,
Our time in Gambia is quickly coming to an end, even though we feel like we just got here. There is still so much to do and to catch up on. New situations and needs continue to come our way and decisions need to be made about what to do and how to help. The stories I want to share demonstrate this.
Beram and Janet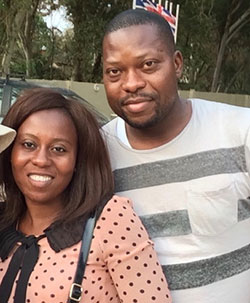 We met Janet a couple of years ago when she attended one of the leadership classes we were giving. In a short time, our relationship with her became strong and genuine. We prayed earnestly for God to bring a Godly man in her life who would be a partner in ministry and we believe God answered when he sent Beram into Janet's life. He is Gambian, a former Muslim that was converted to traditional Catholic years ago, but has now become born again and he is on fire for the Lord. He has 12 years of experience working for an NGO raising and selling poultry. Previous to meeting Beram, Janet felt led to start a poultry business that would provide jobs for the community even though she was not experienced in the poultry business. Beram and Janet are getting married in June and we continue to pray God's blessing on them as they plan their future together and minister the Love of Christ in the villages!
Tragedy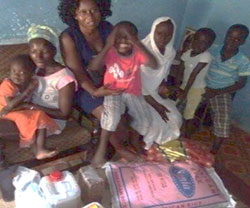 In March this year, Janet lost her older brother to a tragic accident. He was a construction worker and fell off a tall building leaving behind his wife and four children 12, 10, 8 and 5 years old. Janet has been deeply affected by his sudden death, especially because he didn't know Jesus as his personal Savior. She has been ministering to the whole family. Even though Janet's sister-in-law gave her life to Christ and started attending church, her brother remained hard towards God's love and did not allow the children to go to church with their mom. He was the only provider in the family.
Since Janet has a good job, it became her responsibility to take care of the family. This included paying for their rent and providing food and education for the children. We spent time talking and praying with Janet, comforting and counseling her. Picking up the responsibility to provide for a whole family while trying to work a full time job, start a poultry business and a ministry along with preparing to get married is a lot for any single woman! We decided to come along and partner with Janet by taking care of her brother's family, providing food for them every month. We are providing a bag of rice, oil and laundry detergent for $50 a month, which brings a lot of relief to the family and to Janet. All of the clothes and shoes we sent in a container last year came in handy and we were able to give a suitcase full to the family.
Caring for Widows and Orphans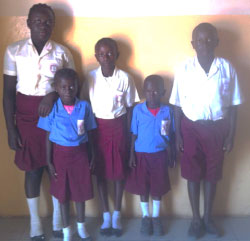 Over Spring break, we received news from the school that a student's father passed away. Later we learned that we have all 5 children of this man in our school, two of the children are in Nursery and the other three children are in grades 2, 4 and 6. Again, the mother is not working; the father was the only provider for the family. Since lunch is already provided at the school for the children, we are making arrangements for the family to receive a bag of rice this month and to ensure that the children will be able to eat breakfast before school every day.
Our hearts are constantly broken by the many needs around us, the unnecessary death of young people due to lack of medical care that leaves behind so many orphans. As I was reading my devotion one day, God spoke to me and encouraged me greatly through His living Word in James 1:27 "Religion that God our Father accepts as pure and faultless is this: to look after the orphans and the widows in their distress and to keep oneself from getting polluted by the world."
We have the opportunity to live out our faith and demonstrate the love of Christ to a world that needs Him so desperately! Because of your faithfulness and generous giving, we can take care of the widows and orphans to provide food and education and lighten their burdens. We pray that God our Father will use our obedience to reveal Himself to these families and to bring them into His flock, where they will know Him as Lord and mighty Savior.
Thank you for partnering with us in touching the lives of so many broken and desperate people. Please continue to pray for the Holy Spirit to move in the hearts of people to receive Jesus as Lord and Savior.
Blessings and much love,
Sol & Manuela