Current Projects
Faala Village Project
The Faala Village project is coming along nicely according to the plans we made. We are in the process of digging the well and setting up for digging the foundation that needs to be ready before the construction team comes at the end of February. We are so grateful for the support and commitment our Grace Church family is providing! Many of the same people have been coming every time we have a project and we can't even begin to express our gratitude for their sacrifice and partnership! May God reward you all for your generosity to His kingdom!
Building the Future: January 2013
Dear friends, family and partners,
A couple of years ago while praying and asking God for direction and discernment for the future of Shared Blessings, God showed us his heart through the prayer of Jabez.
1 Chronicles 4:10 Jabez cried out to the God of Israel, "Oh, that you would bless me and enlarge my territory! Let your hand be with me, and keep me from harm so that I will be free from pain." And God granted this request.
We started praying like Jabez prayed–for God to enlarge our territory and influence in Gambia, to keep His hand upon us and to protect us from harm and pain; He has granted our request. Some of you may have already heard that in March we had an unpleasant experience when our house was broken into and a lot of our things were stolen. God kept us from harm and pain! We were not home when it happened, so all we lost were material things that can be replaced. He protected us from being hurt and He provided the Grace Church team that was here at the time, to pray with us, talk to us and to help us find solutions about how to secure our house better in order to make it harder for those trying to break in again. We are so grateful for the wonderful support we received from our friends in a time of trial and what could have been a time of discouragement and setback.
We also experienced the blessing of the team coming to Gambia to work on a construction project in the village of Faala, a new location where God is enlarging our territory and influence. When the team arrived, we had the foundation of the building poured and ready. A contractor whom we worked with in the past from Lamin did the foundation. We had not made any connections in Faala up to that point, so when the team started working we hired masons and workers from the Faala area. The men who came to build a building did much more than that!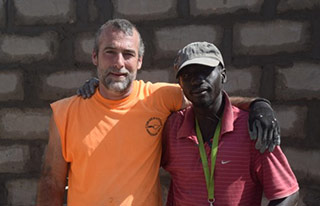 Along with the physical building, they built the foundation of a ministry by forming relationships very quickly with the local workers, giving the ministry an opportunity to grow and bless the village. I watched in amazement at how everyone on the team formed a close bond with a different person, and how they worked together, joking, laughing, and sharing their lives with them and teaching them how to do what they do in a more efficient way.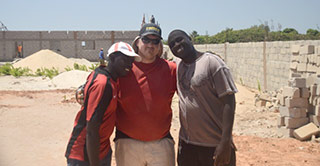 This team has done in 10 days what it would have taken us 2 months to do with only local workers! People from the village stopped by and asked how can this be possible and how many people are working on the project? They got to see first hand, the testimony of God's protection and what can be done when people work together in unity.
On the men's return home, we experienced again God's faithfulness and protection of three of the men on the team at the airport in Brussels on March 22nd when the attack on the Brussels airport took place. God in His grace and love protected them from harm and physical pain. Thank you Lord.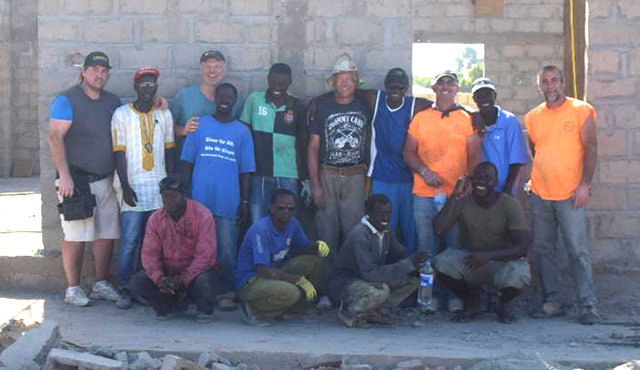 After the team left, we had an extra week with team leader, Larry Bonife, who hired the workers from Faala to help with the building of the computer lab at the school. Larry continued to teach and work together with the Gambian team, and I believe they are all looking forward to seeing him back in Gambia. It was great to spend Easter together with our Bible Study group at the school and Larry shared an inspiring message.
A few days before Easter, we held a couple of leadership training classes with Dan Lucero and some other pastors he travelled with from the Ivory Coast, Senegal and Guinea Bissau. We continued the leadership training with the group through the month of April, to review and solidify the teachings and to encourage the leaders to put it into practice. God is so good, we see His hand at work in our life and in the lives of people that we are partnering with in the work He has called each of us to do. We look forward with excitement and anticipation to see what He will accomplish in this nation through the work of the Holy Spirit that is empowering the believers. Thank you for your prayers and support! We cannot do anything without your continuous prayers!
In His Service,
Sol and Manuela Bah
Dear Friends and Family,
The school construction is progressing well, we should have the metal roof completed by Monday, the 4th. We are so blessed to have a hard working team as everyone is doing their best to get the work done. Everyone is recovering from their illnesses, we are so thankful for that too!
Not only is the work progressing well, but our team is spending time teaching and interacting with the Gambian workers. They are a hard working group of young men and look up to our team. We pray daily that God will use our live to impact these young men to see Jesus.
We have continued as a team to tell our life stories with each other. It is wonderful to see how God has brought several through difficult family situations and now on the other side are praising God for His provision.
Today, Saturday, the 2nd we are taking the day off with a well deserved rest for the team. The great thing about being in Gambia is that we are close to the ocean! Today we are resting near the beach, we call it our "beach ministry".
Tomorrow, Sunday we will meet with our "discovery" group around noon and then in the afternoon meet again with church leaders. We are excited to teach about forgiveness and have a time of Q&A and prayer together.
Every morning we hear the sound over loudspeakers of the call to Muslim prayer. This is our time to pray for those going to the mosque that they will truly find the God they are looking for.
Thank you for your continued prayers that our time here will be a blessing to this nation and that many will come to know that Jesus is Lord and Savior.
Blessings, Grace and Peace!
Steve
The latest photos from the building project currently underway. The trusses have been delivered, via donkey, and the guys are moving them into place.
This is an email from Steve Rosier, a Shared Blessings board member, on the ground in The Gambia:
Dear Friends and Family,
Our internet is sketchy as the "Guest House" we are staying in does not have internet, and we have to go to another hotel nearby to download emails. Even then it is extremely slow, so I apologize for the long email. I came a couple of days before the team and helped Sol and Manuela get the last details ready for the team.
We hit the ground running and began the work on Thursday, the 24th-no time for getting used to the 8 hour time change. We were glad when Sunday came around so that we could catch up on some sleep. We seem to have different team members get sick for several days. We all have recovered except Dave B., who has bronchitis, something he keeps working with. Please pray for him!
The work is progressing faster than we calculated as everyone is working hard. Today, Tuesday, the 29th, we put up 2/3s of the trusses and if the metal roofing comes tomorrow we will start installing that. This is only 5 days into the project! We are looking at some other smaller projects to complete our time as we will have a few days available.
Mostly the Lord is really blessing us as a team. Someone started telling their story of how the Lord brought them to know Him, we enjoyed it so much that we have continued to share at each break and meal of God's intervention and saving grace. It has been the highlight of each day. Our desire to serve God and be obedient to His voice is growing!
We continue to pray for the six Gambian workers who are working along side of us. We are having a great time with them and they are moving along with us in the masonry work. Please pray that God will be revealed through our lives to these men.
One Muslim worker in particular, was at our "Discovery" class last Sunday. This class is designed to help our Muslim friends who are interested in the Bible to "discover" for themselves who God is by reading the Bible together and discussing the passages. "O" and a young man, "A" (who has been reading the Bible for a year), have been meeting with Sol and Manuela for a few weeks now. We are excited about what God is doing and are anticipating some baptisms in the near future.
Another ministry opportunity we had was both last Friday afternoon and at 2pm last Sunday. We met with about 20 Christian pastors and church leaders and shared some scripture and personal life stories about "Christian leadership". They are hungry for more understanding of the Bible and invited us to do the same next Friday and Sunday. We are delighted to share our lives and the Lord with them.
Thank you for your prayers. Please continue to pray that our lives will grow together in God's grace and love and that the heart of this nation will turn to the true God through Jesus Christ our Lord!
Blessings on you and your families,
Steve
Here are a few thoughts from team member Barb Adamson who is currently in The Gambia helping to Build the Future:
It's hard to believe we have almost been here a week, though when we look upon the new building, and what the men and their Gambian co-workers have accomplished it is amazing!!! From starting with a flat slab of concrete, the foundation, now stands a building divided into classrooms, complete with windows and doors. Today they began putting up the trusses and completing the end walls. What a fantastic team effort, everyone contributing their gifts: Larry, Steve R and Steve Z teaching the new guys masonry and Dave, Leroy and Mike making window frames. Alex, Mike A and Stoian are filling in where needed and learning new skills. Molly and I (Barb) have started getting into a groove, making sure the water bucket is filled for fresh water, painting scripture when we can get into the classrooms and playing with the kids at breaks and doing some minor wound care. Oh, then there's the minor detail of feeding all these hungry men!! Thank God Manuela menu planned and shopped before we came! We rush home from the job site and begin making dinner, Manuela with a flair for spices and creative cooking, Molly and I prepping and washing. Being here and seeing what Sol and Manuela have accomplished from literally nothing and hearing stories of how God has provided time and time again deepens all of our faith. Their unwavering trust in our Father is such an inspiration. Being here on the mission has brought other joys, such as listening to each others testimonies at lunch and after dinner. And hearing Stoian and Steve Z's stories keep us all laughing. Voices lifted in praise and worship bring us closer together and to God. We are so grateful for all your fervent prayers and thank you to those at home who are keeping up with everyday life so that we may experience God's work here in Gambia.
Posted on http://gracemissionsblog.com
This morning, Manuela posted the following update on the Shared Blessings Facebook page:
I forgot to mention that is rained for 2 days! (that was last week Friday and Saturday) It is as unusual to have rain in January in Gambia, as it would be to have snow in August in WA! I don't know who was praying for the weather, but it was very nice for the guys to work in some cooler temperature! It's back into the high 90's or more….yesterday it was 108 in the sun! : (
The work is going so well, we are trying to figure out some other project for the team for the last few days! We always have lots of work, so that's not a problem. Barb and Molly are painting pictures and Bible verses on the classrooms walls and the teachers and kids love it! Today is crafts and story time! We are having so much fun!
Here are several photos of the first few days the team was on the ground building the future of Shared Blessings:
Everything is in place, the blocks are all lined up on top of the foundation so it will be easy when the team gets arrives and starts the work.
Sol is working on getting all the sand and gravel delivered before the teams arrival; that seems to be a little challenging, because every time he makes arrangements with a truck driver to deliver, they don't show up for two or three days! He is been trying to find a reliable person, but for now we have to work with what we get and a lot of patience!
The team is scheduled to arrive on January 23rd. We started to buy some of the food and water for them. Lodging is in place! The transportation van is still in the works, we have three different people we are talking with, so we pray that the right one will come into place.
Building the foundation for the new building (Grade 7,8 and 9). We have about half the blocks done, and the foundation should be done by mid December.