Back to the Shared Blessings Blog
February 2017 Newsletter
Dear friends and family,
Over the last 16 years we've been traveling and working in Gambia, loving the lost and reaching out to them with the love of Christ. During this time, we have also hosted many teams from the U.S. that have come to share the love of Jesus in a variety of ways–teaching, children's ministry, sports, medical, leadership training, and construction. One thing we always tell the people that come is that flexibility is key in Africa. This year Sol and I have had to practice flexibility to the next level! We've been stretched and tried and our patience has been refined but through it all, God has been our strength. We are very excited to "see the light at the end of the tunnel" and to return to Gambia in a few days.
New Beginnings in Gambia
You may all know that Gambia's government has gone through an amazing change. It all started on Election Day, December 1st 2016, when the Gambian people united, put their fear of a cruel dictator behind them and chose a new president. Two months of tension, uncertainty and waiting, with the intervention of the ECOWAS (Economic West African States), UN, EU and AU, the dictator was forced out and today we have a new president, new government and a new beginning. In the short time since the new leadership was implemented, we are seeing positive changes taking place.

The "Islamic" name was removed from the name of the country; Gambia is in the process of re-joining the Common Wealth countries and the ICC (International Criminal Court) and we look forward to many more positive changes.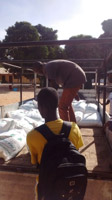 During this time of uncertainty, over 45,000 people migrated to neighboring countries, fearing for their lives and food was scarce. Because of your faithfulness, we were able to provide bags of rice to all of our staff and ministry partners, and they were so blessed and grateful.
More people have prayed for Gambia in the last months than ever before, not just people that know the ministry and us, but people all over the world. We believe with all our hearts that what happened and what is unfolding in Gambia is a miracle, an answer to all our prayers and God is at work in a mighty way in this nation. The miracles will continue to unfold as we continue to pray for this nation because the people are open to what's new. Please continue to pray with us for people's hearts to be open to a new teaching about Jesus, their Savior. Pray for the new government to lead with integrity of heart and for corruption to be eliminated. Pray for the citizens to be patient and to obey the laws.They have been oppressed for so long and now they are expecting a quick fix to all the problems.
Shared Blessings Continues to Grow
It's also been very refreshing to see how the ministry has been growing and moving on in our absence. Mr. Tamba is doing an amazing job managing the school, hiring new teachers and ministering to the kids in the school. We kept in touch with all the ministry partners, mentoring them from a distance through emails and phone calls. (We love WhatsApp and IMO!)
Pastor Robert asked us for ideas about how to motivate the youth in his church to reach out in the community. After a few emails and conversations, they decided to pick a school in the village and they are planning to volunteer and paint the building and to help clean up the compound. Shared Blessings is partnering with them to provide the supplies they need, as most schools are not well maintained due to the lack of funds.

God blessed Pastor Frances and his wife Fatima with a healthy baby girl, Rebecca, just a few weeks ago. We can't wait to get there to see her and the happy parents. They are continuing the youth ministry in Darsalame village, through sports and Bible Studies.
We are excited to let you know that because of your partnership and generosity in giving to God's work, we were able to purchase a new property in the village of Banyanka, where Pastor Phillip was called at 16 years of age (he is now 25). The property is 30m x 35m and it will be used to build a church for the community. We learned that there are no churches of any kind in Banyanka, so this will be the only place of worship in the community. We believe God for a great harvest, as we continue to pray for Pastor Phillip, for great wisdom in the work God has called him to.
A team of five men will be joining us March 5th-22nd for a construction project that was started last year. They will be building the second floor of a single room building. We really need their expertise in executing a job that we can trust so we don't have to worry about the second floor collapsing. The bottom floor will be used for a computer lab and the upper room for ministry purposes only–Bible classes/leadership training/intercessory prayer. We are also planning to have the team help rebuild the kitchen at the school. The existing building was built on a very poor foundation, and the floor is sinking on one side. The cooks have been cooking outside and using the other half of the kitchen to distribute the food. We have been pursuing the purchase of the property that's next to the school for this purpose that is for sale, but there are some family complications involved and the process came to a stop. However, we have hope that it can be worked out, but we need prayer and a miracle. The time is short before the team arrives, but we know that God is never late when He has a plan that He is bringing to completion.
God is at work in a mighty way in Gambia, and we know your prayers are being answered. Thank you so much for partnering with us in building God's Kingdom on this earth.
We cannot do what we do without your faithful prayers and support.
We love and appreciate you! God bless you!
Sol and Manuela Bah