Back to the Shared Blessings Blog
December 2017 Newsletter
Dear friends and partners in ministry,
God's Plan, not Ours
We did not plan or anticipate spending Thanksgiving and Christmas in the States this year, but that was God's plan. God is clearly showing us His plan for us to be here and as much as our hearts long to be in Gambia with the people we love and miss so much, we are being obedient. We are learning to be on His schedule and not to make our own and ask Him to bless it.
Christmas Preparations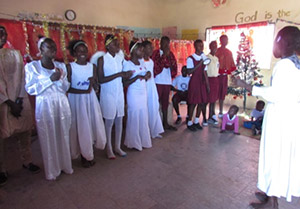 We continue to keep in close contact with the staff and ministry partners, to pray for them and advise them when they ask for help. The school staff is organizing a Christmas program to celebrate our Savior's birth. They are training new students who will participate for the first time in the Christmas drama that will be performed in front of their fellow students and staff.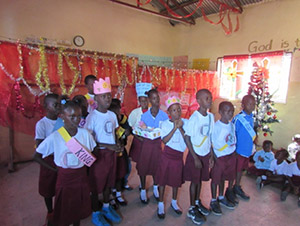 The majority of the students that have taken the leading roles in the past graduated this summer, so younger students are being trained to take on the rolls of Mary and Joseph, the wise men and the angels… Pray for patience for the teachers and most of all, pray for the story of the birth of Jesus to be presented in a way that would make the hearts of the children want more of Him. We do our part and plant the seeds and we believe the Holy Spirit will do what only He can do—draw people to Him.
Evaluating and Moving Forward
Since the beginning when God called us to ministry in Gambia, we've felt that He was calling us to reach and change a nation. We know that only God can accomplish a vision that size and we are grateful for that. He chose to use ordinary people to fulfill His great commission, and He promised to be with us always. To stay on course, we constantly evaluate the progress and results of the ministry, the techniques we use and our role in the ministry of Shared Blessing.
For a while, we thought building more schools would be the way to reach more children and the next generation. This plan would require more land, more buildings, more staff, and a lot more work for the two of us, more than we thought we could handle. We wrestled with that idea for a while since we knew that it would be too much for us. We still believe planting the seeds of the Gospel in the children's hearts at a young age is the way to reach the nation but we couldn't see a solution for doing that.
God is enlarging our Vision
A couple of months ago we were sharing with some dear friends of ours how the Saudi Arab countries have been sending funds to Gambia and other impoverished nations in Africa to build mosques, Islamic schools and to pay for Islamic teachers to be placed in every school in the country in order to ensure that the children are being taught the Islamic faith. As we were sharing, we were asked if there would be any restrictions on funding and placing Christian teachers in every school in Gambia, since it is a requirement from the Education Department that religion must be taught in schools. We had our answer—we don't need to build more schools, we need to train, equip and send missionaries/teachers in to schools that are already there! They can share the Gospel and plant the seeds of God's love into the hearts and minds of the children.
In this way, we can reach thousands of children throughout the nation, and we would only have to pay each teacher's salary of about $150/month and provide the tools for them. This new approach has excited our hearts and it keeps us dreaming with our eyes wide open! We serve a mighty God, and through our obedience, He can do exceedingly, abundantly more then we can ever ask or imagine.
Just imagine with us that during Christmas time in Gambia, we have committed teachers organizing a Christmas play/drama in multiple schools, presenting the Gospel to hundreds and even thousands of children all at once! Imagine the Gospel being presented to Muslim children every week through Bible stories and songs, Bible verses and videos. God promised that His word would not return void so as we take on this challenge and new approach to share the truth of God's Word, we believe He is at work to save a nation.
We humbly ask again for your prayers, for God to give us wisdom and to see the direction God has for us to be able to take this to the next level. We will need to approach the Education Department officials and inquire about their requirements in implementing our plan.
Pray for God to prepare a person of peace that would handle the request and for wisdom for the teacher that would represent the vision.
Pray for this vision to be viewed as a benefit that would bring unity and not as a threat or competition.
Pray for God's hand and mighty power to be at work every step of the way. We need His intervention and miracle working power to accomplish this vision on a large scale.
Thank you from the bottom of our hearts for partnering with us in changing a nation. Thank you for giving, praying and believing.
Wishing you a Merry Christmas and a New Year filled with Faith, Hope and Love. Blessings and much love,
Sol and Manuela Bah